The Capricorn man has great taste, and it's not always easy to know what kind of gift to get him when he already has so much! His love language is typically gifts, so it's important to get this one exactly right! Read on to find out what you can get your Capricorn fella to show him how much you care…
There's nothing quite as rewarding as spoiling your sweetheart, right? And it's likely that your Capricorn man has already spoiled you plenty, so you want to return the favor! 
In my experience as a relationship astrologer, most Capricorn man like to get gifts that are high-quality and tasteful. 
That doesn't mean it has to be expensive, but it does have to be well-made and practical. He'd rather have something small and long-lasting than big and short-lived. 
These are some of the best gifts to put a smile on your Capricorn man's face — you can thank me later! 
7 Perfect Gifts to Give Your Capricorn Man
1. A Classic Watch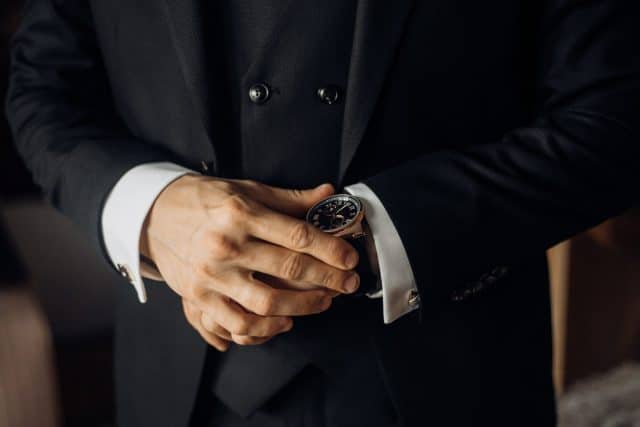 Capricorn men are one of the few signs that will still value having a lovely and timeless (no pun intended) watch. He loves tradition, you see, and watches are still part of that traditional world. 
Of course, it can be a big deal as watches tend to be expensive, so choose carefully! 
Luckily, this is the type of gift where, if you choose it right, it can last a lifetime and consistently remind him of you, every moment and every hour! Go ahead and splurge if you can — he will appreciate it! 
2. A Quality Clothing Staple
Back in the day, I would have advised you to get a fancy suit for your high-flying Capricorn fella! And if he's in the corporate world, this is still a great gift for him! 
Every man needs a good, tailored suit to make him feel on top of the world! 
Of course, if he's not that type of guy, he'll still appreciate a high-quality shirt, a great pair of jeans, or another item of clothing that's both practical and stylish. 
He can always tell if the clothing is high-quality or not, so be careful of skimping here! The typical Capricorn man can be very fussy about what he wears.
Usually his colors of choice are black, grey, and brown, so it's a safe bet to go muted rather than bright when it comes to choosing the perfect garment.
3. An Organizer
Most Capricorn men are very career-oriented, or at least goal-oriented. 
He will appreciate a lovely planner, diary, or organizer of some kind, whether digital or physical. Physical is usually better for him, though, as the typical Capricorn man likes to have something tangible in his hands! 
This guy is often a fan of leather goods, so buying a supple leather-bound diary will be a win for him! 
You can also get him a fancy pen to match, which he will deeply appreciate—or a fancy pen plus refills if you know he already has a planner he loves. 
Going ever further, you can emboss the leather or the pen with his birth date or name, as long as it's subtle — these men don't like glitz or glam! 
4. A Bluetooth Speaker
Many Capricorn men really enjoy music in their lives. They might even play an instrument but likely at least have a vast music collection, whether vinyl or in other forms. 
Many people don't know that while succeeding in the material world, the Capricorn man is also quite creative and mystical. Music helps him to tap into that side of himself and find an outlet for his stress and tension. 
If he doesn't already have one, a portable speaker is one of the most perfect gifts you can get for him! Not only is it practical (which he loves), but it's also a way to have more of what he enjoys! Make sure that it's a brand with a good reputation, and you're all set!
5. A Kindle or E-reader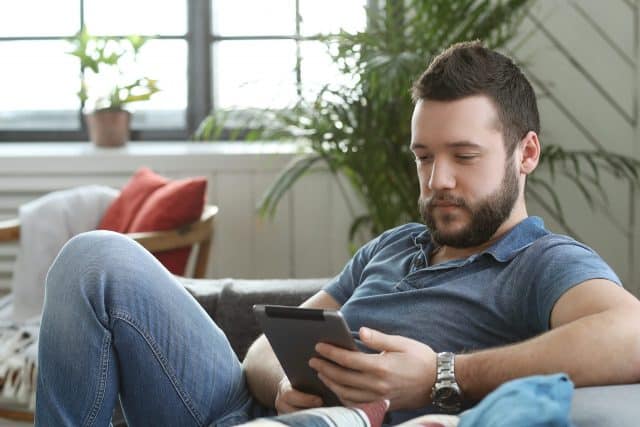 Does your Capricorn man have an e-reader yet? If he doesn't, that can be quite a nice surprise.
He likely loves to read, and he enjoys information in any form. He'll find a Kindle both efficient and practical, qualities he holds in high regard! 
If you're feeling generous, you may even get him a few books to add onto it, or a voucher for a digital bookstore. Try getting him a mix of your own favorite books and ones that appeal to his interests.
6. Business Books or Courses
Career-oriented Capricorn men are always looking to get ahead in the business world. 
They want to be the very best at what they do, and they are usually high-fliers! If your Cap guy is in the entrepreneurial world, one of the best gifts you can get for him (digital or physical) is a book on business or productivity. 
What's even better is a workshop or course on building a business or improving his career skills. This gift will have him practically eating out of your hand, and he'll love that you support his professional goals! 
Read next: 7 Essential Pieces of Knowledge for Any Woman Married or Engaged to a Capricorn Man
7. Anything Practical
Being an earth sign, Capricorn men appreciate practical gifts. They really don't want to receive presents that are ornamental or useless in any way—and they prefer if the gift can be used in some way to improve their lives. 
DIY gifts can be very helpful, as well as things that are both beautiful and have a practical use (gold-plated bottle opener, anyone?). 
Capricorn men will especially love gifts that are somehow traditional. For example, an antique office chair that's both comfortable and lovely. 
Keep this in mind as you shop for your Capricorn fella—he is fussy, but it's all worth it when you see the look in his eyes and feel his appreciation when you get him the perfect item! Don't be afraid to spend a little if it's in your budget; it will remind him of you forever and keep you close to his heart. 
Now you have my top ideas for getting that special Capricorn man in your life the perfect gift to show him how much you love him. 
Are you currently dating a Capricorn man? What do you find are his favorite gifts to get—what's made him happiest?  Please go ahead and share your story below; it's always lovely to hear from my readers! 
If you'd like to learn more about these successful and ambitious men, take a look at Capricorn Man Secrets:
https://Capricornmansecrets.com/
Your friend and relationship astrologer,
Anna Kovach
---
---