Have you run out of ways to bewitch your Capricorn in bed? Maybe he's run out of steam, and you miss the passion you shared.
If you aren't giving him what he needs to feel fulfilled, then it's time to get creative! Read on for my tips for satisfying a Capricorn man in bed. It's crucial!
Get in His Head
Before you get to the physical side of turning on your Capricorn man, you need to get his mind racing.
Tell him what an amazing lover he is. Let him know that he's the sexiest guy you've ever been with.
Complimenting his physique should go over well, too. Pointing out the things about his body that really turn you on will get his motor running. Try whispering in his ear about what you find sexy while you two are out. 
Tell him you cannot wait for him to put his hands all over your body—that you crave his touch and want him so much.
Propose a fantasy he can fulfill. Tell him you want him to take charge and tie you up and blindfold you, for example. He'll be all too tempted!
You're mentally preparing him for a very sexy time, and this is what he needs to get him really turned on.
Practice Smart Sexing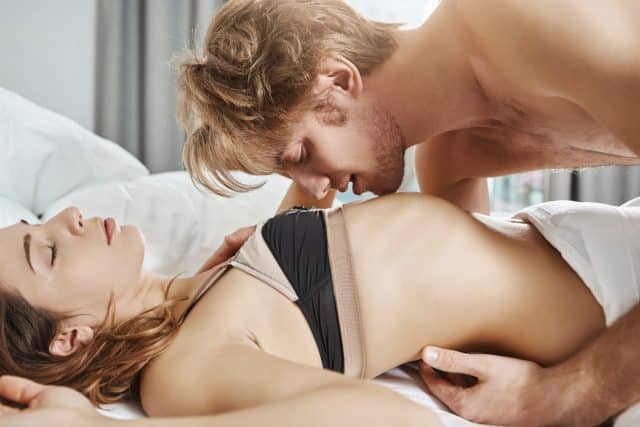 Nope, I didn't say sexting (although you shouldn't rule that out!). What I mean by sexing is turning up the heat and raising the energy between you.
Remember that most Capricorn men want to be the dominant one in the bedroom, which means you need to be creative in ways that will allow him to do that without compromising your own sexuality.
The positions that you two get down and dirty with are a big part of sex for a Capricorn. He's particularly fond up 'rear up and face down.' That's right, doggy style.
He loves having you on all fours where he can see your body and feel you up at the same time. It also allows him to feel dominant, so it's a double win for him. 
Of course, this can include furniture. Think of places in the house he can bend you over, and show him the way. He'll be all for it!
He also doesn't mind you being on your back, but he'll love to have your feet up by his ears. He wants to drive himself deeply inside you, and this is a good way to do it. Again, this is a dominant position, which is why he loves it.
And don't forget your Capricorn man's erogenous zone! It may be tricky to get to because it's the back of his knees, but you can get creative! A sexy massage is a great place to start.
Experiment With Toys
The thing to remember is that the Capricorn man wants to be in charge, and he wants to be the one to please you. Sometimes, as silly as it sounds, toys can make him jealous—like he's being replaced by silicon. 
He may not be thrilled about you using a vibrator, but if you enjoy it and want to work it into your play time, ask him to do it for you. Problem solved!
With this guy, it's likely he won't want you to return the favor and use toys on him. Again, he likes to feel dominant.
You can use pantyhose to let him gently restrain you, let him blindfold you, or even try ropes or handcuffs if you're feeling adventurous—anything that puts him in the driver's seat. 
He doesn't need to be rough with you—just this small hint of the unusual will get his blood pumping. This type of play may even increase his stamina. Marathon sessions may be in the cards…
Capricorn men act conservative, but when they let loose, they're super naughty!
Keep It Classy In Bed with Capricorn Man

The Capricorn man appreciates a classy woman in and out of the bedroom. You can be naughty (see the previous section!) but he doesn't want you to be trashy. 
Wear classy lingerie, not a getup fit for a strip club. I'm serious about this! He would rather his woman look like a lingerie catalogue model than a pole dancer.
When it comes to the verbal side of things, it's fine to talk dirty, but you have to do that in a classy way, too. Think NC-17—not X.
How can you tell the difference? Saying something like "I want you inside me so much" is on the classy side, but getting too graphic or downright raunchy won't fly with him.
There is a line, and it's best not to cross it. Be sexy and romantic in your approach to your dirty talk, and you'll be fine. The truth is, he'd rather do than talk anyway. 
Read next: 5 Biggest Turn-Offs For The Capricorn Man You Should Know About
Conclusion to Satisfying a Capricorn Man
There is a process to go through when it comes to being able to satisfy a Capricorn man in bed. After you learn it and become familiar, you will have a very rewarding experience with him.
Capricorn man often comes off as difficult to please or hard to reach. He may even sometimes seem like a prude. The thing is, he's just cautious. Once he feels a vibe with you, he'll lay it all out there.
He will do everything under the sun to please you. However, he also has his own way of doing things, and you may have to get used to it. Being with a Capricorn man sexually takes adjusting.
Once he finally feels safe and comfortable with you, he will take you to the moon in the bedroom! 
Speaking of pleasure, I wonder what kind of fun sexy actor Jude Law enjoys most. Yep, he's a Capricorn man!
Have you rocked a Capricorn man's world in the bedroom? What did you do? Share your story anonymously in the comments! 
I wish you all the luck of the universe.
Your friend and relationship astrologer,
Anna Kovach
---
---