Are you finding yourself ready to explore some intimacy with a hot Capricorn? It may help you to know what actual Capricorn man erogenous zones are and what you can do to turn him on like crazy. Keep reading for some helpful tips.
Capricorn guy has an oddly placed erogenous zone
This is possibly one of the weirdest erogenous zones but it is what it is. The Capricorn man's main erogenous zones are behind his knees. Naturally, you don't want to just give attention to that spot alone.
He might ask you what in the heck you're doing if you try to work the backs of his knees without touching anything else. Not to say he wouldn't enjoy the feeling but it would seem odd and he'd be wondering what is going on.
To be less conspicuous, you can massage his legs. He won't be used to this and will be really curious as to why you're doing this. However, he'll be thrilled that it feels so good. Then while you're doing this; you can ever so slightly massage the backs of his knees.
You can actually give him a full body massage with some essential oils. Scents that work well for him would be a nice variety so you have plenty to choose from. He would do well with lemon, bergamot, patchouli, eucalyptus, peppermint, sandalwood, or even tea tree oil.
These scents are pleasurable and will enhance the wonderful massage you're giving him. Definitely put emphasis and more time on the legs though. You know why now already. The back of the knees is the main target.
Cappy guy wants a full spiritual experience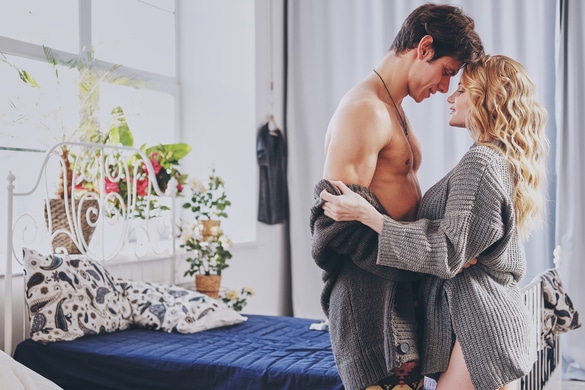 Capricorn man wants the stars to align and be just right for him and whomever he decides to have sex with. He wants to make it a spiritual experience. That being said; you may want to sort of bonding with him.
Do little things for him that mean so much. Brush his hand and arm ever so gently and tenderly. He'll feel that energy and feel the intimacy that is brewing underneath the surface.
Talking to him while looking him in the eye helps him to determine whether you're being truthful or not. He needs to understand and FEEL your intention with him otherwise he'll be suspicious and unsure.
The way you talk to him, the way you move with him, the way you are when you two are alone and spending time together are things he's examining. Truly it's like a CSI agent looking at a scene of a crime with white gloves.
He's very picky and is looking for something in particular in a woman. That means you're going to have to be 100% genuine with him. When you do this and he can relax; he will be turned on by you.
On that note; the Capricorn man's other erogenous zone is his brain. He needs stimulation, security, comfort, and stability. When his brain is satisfied; his manhood will also be more excepting of you.
Capricorn men have a tendency to indulge themselves
There are many reasons that a Capricorn man can be self-indulgent. He ultimately feels as though women's role is more to serve her man rather than the other way around. This guy feels his job is to provide for the family.
He thinks with a rather "old school" mentality. This means that he likes the way it was in the old days. If you're the type of woman who wants to be a stay at home wife/mother and cater to your man; he's the right one for you!
Self Indulgence is part of who he is and this is what makes it hard for him sometimes to be in a monogamous relationship. He may talk himself into cheating or into having more than one sexual partner.
He's an odd man out as he wants a loyal partner and is super picky but; he sometimes also craves a little variety thus being with more than one woman sexually.
He'd likely be a bit prudish if you were to suggest a three-way or group sex. He's got his own set of morals. However; he won't hesitate to cheat should the situation arise.
So, is Capricorn man prone to cheating?
I'm not saying all Capricorn men will cheat but what I am telling is that Capricorn struggles with his own set of morals, his need for security, and his need for beautiful surroundings (including women).
This often makes him confused and can make him stay clear of getting into a committed relationship in fear that he won't be able to give a partner what she'd want.
This is why many Capricorn men stay single for long periods of time. When they do give their heart to someone; they have expectations that build. What's this to do with sex?
Well if he disappoints you in the bedroom because he is all about pleasing himself and not too concerned with your well being, sexually, there may be a problem. What can you do?
Communication is the main source for finding the middle ground. If he isn't giving you what you want in bed, gently ask him "I really like it if you do this" or "it would really turn me on if you did this". If he's ever done anything right, remind him of it.
He's more than willing to try to do what you're asking of him but be aware that he's one of those that may say "I'm just not into that" or "I've got a headache" or "I'm tired" after he's already had his orgasm.
If he hasn't he still may just blow sex off altogether. Then again, he could have a moment or two where he is super freaky and wants to have a three-way. It's so unpredictable with him.
Just remember; stick to working with the backs of his knees in some way. I recommend leg massages or perhaps even kissing his legs, knees, and then back of knees. Most women don't think about these areas so you doing it will blow his mind for sure. Give it a try and see how he reacts!
---
---