Dating a Capricorn man can sometimes leave you frustrated and confused. It's just so hard to read his mind and know what to do to keep him happy. 
These mysterious men like to keep everyone at a safe distance, even the woman he shares his life with, so no wonder you're confused on how to have him feeling loved and appreciated!
This is why I have devised this list on how to make him feel completely adored. So, continue reading to see what makes these sexy men feel like the woman they are with loves and appreciates him. 
Be Committed & True
Capricorn men take their relationships very seriously. He wouldn't be dating you if he didn't think you have long-term potential. He's not looking for a relationship that's going to blow over quickly, he's looking for the real deal.
If you want him to feel really loved, then your best bet is to make him certain that the way you feel about him is just as serious. Prove to him your commitment and dedication in the relationship.
It's really important that you can show him that you're trustworthy and not seeing him as an option or a means to an end. One thing he certainly won't tolerate is adultery, so keep your friendly flirting with other guys to an absolute minimum.
You don't want to give him any cause for suspicion, because the truth is, he's rather afraid of getting his feelings hurt. That is why it takes a lot for him to want to commit to a woman, because he really needs to be sure.
Be The Best Version Of Yourself
One thing a Capricorn man really loves is status and the feeling of achievement. This is why he works so hard, because he wants to live an aspirational life, one that other people look up to and want for themselves. 
You'll never see a Capricorn man with a woman who doesn't take care of herself. He's always dating someone who is dressed to the nines and takes a great deal of pride in her appearance. 
So, if you want your Capricorn guy to feel really special, then make sure you hit the gym and get your hair and nails done often. For this guy outward appearances are everything, so when you put in effort into the way you look, he sees it as a reflection of the way you feel about him. 
Plus, being healthy and looking good won't hurt you in any way, it will only boost your confidence and make you feel really amazing about yourself. Which will make your Capricorn man even more attracted to you in the first place. So, this is really a win-win situation!
Keep Things Professional
A Capricorn man sees life as one big business transaction. He likes things neat, tidy, and very clear. He keeps things professional, even in his romantic relationships. So, he expects you to act accordingly and keep drama to a minimum, especially when you're in public.
Embarrassment is a big no-no for a Capricorn. If you're in a relationship with him and want to show him you care, you should never air your dirty laundry in public or pick a fight with him when there are others around you. He'll just see this behavior as one big slap in the face.
He wants to present the perfect image to the world; therefore, he can't have you making a scene by having any emotional outbursts. Even privately, it would be best for you to have a hold on your emotions because he doesn't cope very well in these intense situations. 
This is a sure way for him to go all distant and detached, and that is the last thing you want when you're in a relationship with a Capricorn man.
If you want him to feel loved and appreciated, you would do well by approaching any negative feelings you may have in a rational manner. I know, I know, this doesn't really make sense, but this is the only way a Capricorn man knows how to listen and come up with a solution.
He understands the world, and even his emotions in practical terms, so it's best for you to respect his need for privacy by trying your best to uphold his squeaky-clean image. 
Give Him A Good Time In The Bedroom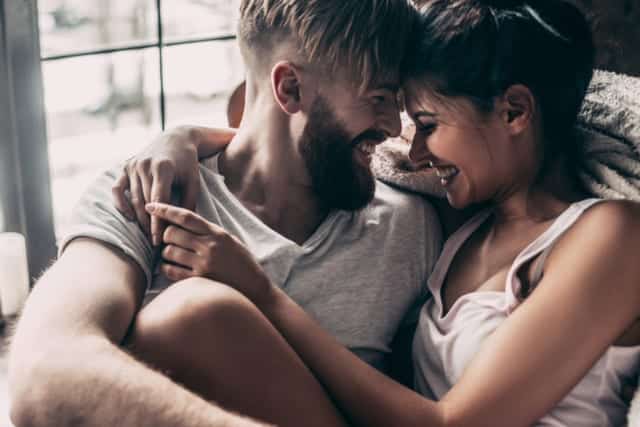 Capricorn men are incredibly kinky, probably some of the most adventurous men in the bedroom. I know it might come as a surprise, seeing how emotionally reserved and distant he can be. But, wow, this man likes to get down and dirty between the sheets!
Because he's so stern and serious in his day-to-day life, he needs a release and finds the best way to get this is through sex. This is where he can be really free and let all of his inhibitions go. So, it would be best for him to have a lady who is quite adventurous and isn't shy in the bedroom.
You can show him how much you care about him by being open to exploring your wilder side and indulging in his darker side, which definitely involves a few kinks and taboos. Ask him what his fantasies are and try to reenact them as best as possible.
Of course, don't do anything that feels too much for you or anything you don't feel ready for, because it is important to know and understand your own limits. But if there is a sexual act you feel curious about, you could mention it to him and see what his reaction is.
He'll be very excited to know that you're willing to be open and try something new. This is a sure way for him to feel very turned on by you! 
Be Patient With Him
A Capricorn man refused to be pushed or forced into anything. He has his own value of time, and he only does things when he feels ready, and one of those things is opening up emotionally. This is no easy task for him, as he's very uncomfortable with any kind of expression of feelings.
Emotional intelligence is just not his strong suit, he just doesn't get that being in a relationship means talking about feelings and perhaps showing a more nurturing side of himself. Instead, he's more likely to just go very cold when you talk about your emotions. 
But just give him time to open up and warm up to being more open. Because the truth of the matter is, a Capricorn man is terrified of getting hurt and that's why he always has his guard up. He might also question his lovability and if he's good enough to be in a loving relationship. 
Like I mentioned before, he hates feeling embarrassed and tends to feel that way when he shares his most intimate thoughts with someone. He's really scared of feeling rejected by the woman he cares about, so instead of putting his heart on the line he is way more likely to want to protect it. 
One of his greatest desires is to actually build a family and take care of his wife and children. This is why he works so hard. He might not be the best at giving emotional support, but he sure knows how to provide for the people he loves most.
He just needs time and a lot of your patience. If you can show him that you're willing to wait and give him the grace to slowly warm up and become more comfortable with being vulnerable, then he'll definitely feel a lot more loved and supported than if you were to force him into something he might not be ready for. 
Read next: 8 Great Date Night Ideas with A Capricorn Man
My Final Thoughts About How To Make A Capricorn Man Feel Loved And Appreciated
Capricorn men are really on a league of their own. They are so determined and ambitious, it's quite surprising that they manage to find time for relationships. This is why it's good to take extra care of your Capricorn man by showing him how much you love and appreciate him.
Your best bet is to just take a traditional approach when expressing your love to him. He likes things to be practical, so taking a bit more responsibility at home or being his support is really all he needs from you to feel loved. 
Have you ever dated a Capricorn man? What would you do to make him feel loved and appreciated? Is there something he really liked? I'm so curious to hear your tips so please leave a comment in the section below!
Are you interested in a Capricorn man and not quite sure what is he like? Check out my Capricorn Man Secrets Book right here to learn all about this sexy and ambitious sign.
And if you feel like you need some private guidance on your relationship, I've still got a few spots open for my 'VIP Consultation' service that you can book here to get instant clarity and guidance. You can book your private consultation here.
Wishing you all the luck in the Universe!
Your friend and Relationship Astrologer,
Anna Kovach
---
---