The Capricorn man can be very difficult to read which leaves many women very confused. When you go out on a first date with him, you always hope you'll get some kind of read on the guy. However, Capricorn men are a different breed. Keep reading for signs that a Capricorn man is interested or not.
Signs Capricorn Man Is Interested
One of the unmistakable signs that a Capricorn man is interested in you is his level of attention. If he is leaning in and really listening to what you've got to say then he's definitely got an eye on you.
He will want to know who you are, ask you questions, and want to know as much as you're willing to open up to him about. Questions are his way of letting you know that he's interested enough to care.
There are times he may act rather shy but he knows he has to show you some kind of sign that he's into you so that you'll agree to go out with him again in the future.
Be aware that Capricorn man is a slow-mover so do not expect him to jump through hoops to show you he's totally devoted to you just from one date. He's not one to dive right on in.
That being said, if touches your arm or your hand, he's probably physically attracted to you. Asking questions shows he's interested in your inner self, and if he talks about anything that's personal about his life, he's showing you himself.
When you get to see his "hand" like in cards, he's letting you in and giving you a chance to show him why he should be with you. Talking to you like a really great friend is another indication he may be interested in you.
Capricorn man wants the woman he settles down with to be his best friend in the whole world. She's going to be the one closest to him so if he offers you friendship and getting to know each other more, is a sure sign he's interested.
If you find that he's very flirty with you or affectionate by being endearing with his come-ons; he likes you and is interested. Keep letting him do that and give him back some of it to let him know that "you're in".
Signs He's Not Interested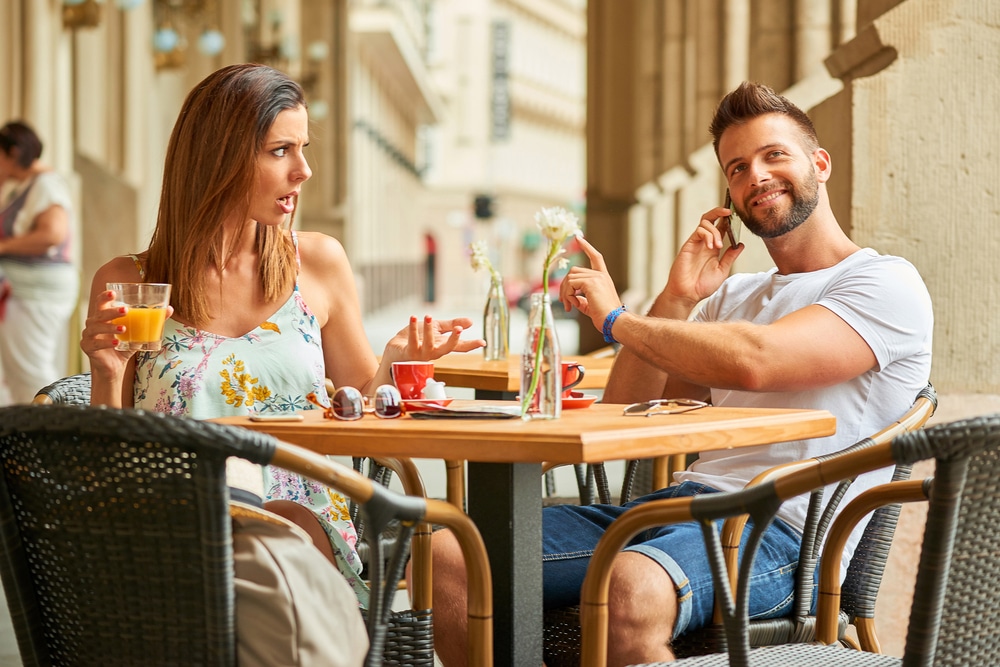 It's fairly clear when a Capricorn man isn't interested in you. He won't try to make up conversation. He'll be very quiet and probably stare off into space a lot. He may flirt with the waitress or do something that you'll be appalled by.
He has high standards but he will act like a child sometimes if things aren't going his way. If he doesn't like you or doesn't see a future with you, he'll ignore you. When you talk, he'll look everywhere else but at you.
He won't ask you any questions, he won't seem very interested while you're talking, and he may try to change the subject while you're in the middle of saying something.
Most of all, the Capricorn man will pretty much brush you off as though he's not really into where he's at with you and would like to leave. He may even walk out on the date. He doesn't believe in fooling anyone.
Though he always wants to try to do the right thing, sometimes he is just downright rude and confrontational. He may make awful comments or jokes just to turn you off so that you don't get the wrong impression.
He may also just go ahead and tell you that you're very nice and all but he's just not feeling anything. He definitely will not ask you out again or indicate the desire to spend any time with you.
Of course answering phone calls during dinner, texting with someone endlessly, or when he keeps checking the time on his phone will also indicate his lack of interest.
Distinctive Differences
While it can be hard to read a Capricorn man, look for these signs of what he might do or not do around you when you're on the first date. There is also the confusion he may have to consider.
One date isn't going to be something he will use to determine any desire for a declaration of love. He's going to take his time and he may actually want to see you again to get to know you a bit more.
It may only mean friendship but typically that's the way love starts for him anyway. He wants to establish a really great friendship and then evolve into love that will be quite strong and fulfilling.
You always want to trust your own intuition as well. Does your gut tell you that he wants to get to know you more or is your gut telling you he's not comfortable and wants to get out there?
Trust your gut and do what you know you need to do or should do. His energy should be strong enough for you to actually figure out if he's into you or if he just wants to call it quits.
Don't rule out another chance though. If he's hard to read on the first date, he may be indecisive about what he wants. Wait and see what happens. See if he calls you, texts you, or sends you a social media message.
Look for indicators there to determine if he's into you or not. You should be able to determine it rather quickly. Just remember that you'll have to prove to him why you're the right one.
Be patient and let him take as long as he needs to in order to figure out if you're the right woman for him. You won't regret it when he suddenly asks you to be his and holds you ever so tenderly.
It could happen so be open to it. When you're out for him, look for the signs and let your gut lead you which direction is right for you.