Are there really ways to text a guy that are more specific to a Capricorn man? Of course, there are! In fact, there are things you probably should know before you dive into a flirtationship with a Capricorn man.
You cannot actually MAKE a Capricorn man do anything, but you CAN lure him in by using certain techniques via text message.
I am going to help you out by giving you some tips, along with really adorable text examples that will melt his heart and make him want to be with you.
He can't resist a woman who captures his heart. How can you do that? Be sure you keep reading to learn how to flirt with a Capricorn man over text. I'm sharing my secrets with you!
Are you ready? Excellent! Let's get started.
Flattery With A Purpose
Capricorn men are just like most other men in the way that they love flattery. With a Capricorn guy, however, you have to be more specific and less gushy. He isn't into lots of emojis either, so be mindful of that.
You have to be intellectual with him. He's an old-fashioned type of guy. Keeping that in mind, you realize that he's only going to respond well with smart texts.
You can be cute and smart at the same time. His brand of cuteness is different than everyone else's. Here's an example of what a Capricorn man would enjoy…
Let's say he's heavily into building motorcycles or is an enthusiast.
"I would look hot on the back of this motorcycle with you driving," and send a picture of a really awesome Harley motorcycle or just one you think he might like.
You see how you're appealing to his interest and being cute at the same time without being too mushy? It's also a way of complimenting him. He'll love it!
If you saw him recently you can say, "You looked quite dashing last Friday." Using old terms like this will appeal to him very much.
If he talks to you about his job then tell him he's brilliant and you really like how he takes care of his workload.
Text Him Only When You Have Something To Say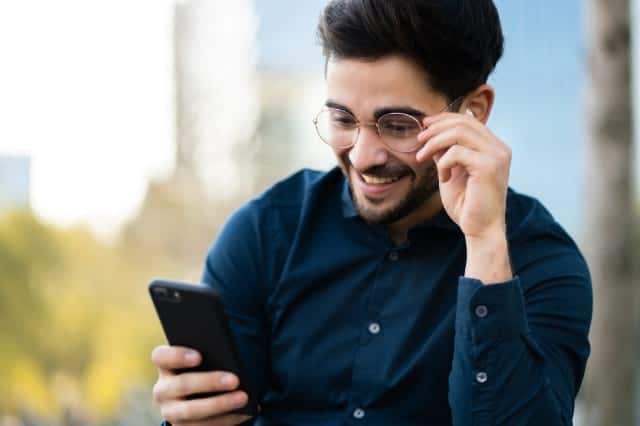 You always want to text him with purpose because if you don't, he'll think you're just bugging him or being too needy. Yes, he thinks this way. It isn't what you're trying to do, but Capricorn is a different breed.
Think carefully before you text him. Be smart and think about what you know about him and go from there. You can send something simple but be more "to the point" about it.
It may not seem flirty to you but it is to him. "Since I've met you, I'm curious about something…" Wait for him to respond by asking you what it is that you want to know.
You can then respond with: "How do you always make me feel like this?" He'll be confused but it leads to something more.
When he asks what makes you feel then you can say: "Inspired and hopeful that you're interested in getting to know me better because I'd love that."
It's like fishing. You're saying small things to lure him in with curiosity and then BAM! You're to the point in saying what you like and what you want. That now opens the door for him to respond with his own intentions.
You should word it in your own way, but at least now you get the idea of only reaching out to him when you have something to talk about.
You can still ask him, "Hey, what are you up to today?" and let him tell you. This shows him you care enough to ask. If he tells you what all is on his agenda, you can then ask him when he can get together for lunch or dinner.
Yes, it's bold – but if you don't tell him flat-out what you're after, he'll never "get" it. He's not one for trying to figure out what a woman wants. He's oblivious and frankly, he feels it's a waste of his time.
The more upfront with him you are, the better off your results with your Capricorn man will be. This is one of the ways to flirt with a Capricorn man via text.
Ask What He Does On His Downtime
This has a purpose, I promise you! Ask your Capricorn man something like this… "What do you enjoy doing when you're not working so hard?"
He'll love it that you actually think of him enough to ask. It's also a great opportunity to find out what he'd like to do with you in the future.
Let him tell you all about it and here's an example of how you respond to him telling you how much he loves to go hiking…
"I have a brand new pair of hiking shoes; we should totally hike together sometime!"
It's a flirt and leaves it open to the possibilities. If he digs you, he'll say that he agrees or he may even come up with a place and time to meet up.
Just think about cute ways of saying you're into what he likes…
"You like sailing? Me too! Where's your favorite place to sail?" … he answers and you reply: "Well, I have a friend that has a boat and maybe you'd like to join me on a day trip?"
You can fill in the details such as the location and what you two can do. Remember though, you're not asking him out, you're flirting and making a suggestion.
You must always let him chase you because he's not one for being chased. He loves being a man in charge in most ways.
Send Flirty Pictures Of Yourself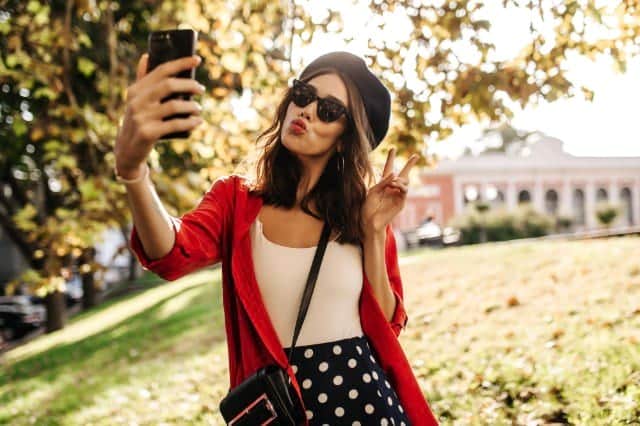 Another effective way of flirting with a Capricorn man over text is by sending him an adorable photo of yourself. Keep it clean and classy though!
He loves classic women who don't have too much flesh showing. I mean he digs skirts but not the mid-thigh look. He prefers a long, shin-length skirt with a slit so that your leg slides out with thigh highs on.
He doesn't like it when women have their breasts popping out of what they're wearing, either, so I suggest wearing a stylish t-shirt that looks really cute.
Fix your hair and wear light (almost natural looking) makeup. He's not one for women who wear heavy makeup.
You might try posing with something he really loves like a movie, tv-show, or a classic car show (if he likes that). Get creative when you do this. He'll really appreciate it. It's one of the best ways to flirt with a Capricorn man.
Again, don't do this too often though. He likes a woman who is independent and doesn't constantly text him. Show him you have a life outside of him and you're not obsessed or clingy.
You can try doubling up by sending a text that says "Insert you here" and having a space next to you visible in your picture on a bench at a park. It's absolutely an adorable text and he'd love it!
Eating at a restaurant you know he likes and doing the same thing there with the photo will intrigue him and he might even ask you if he can join you next time you go there.
It helps open up the door with your Capricorn man interest. You can definitely effectively text a Capricorn man by keeping your messages short, simple, and to the point.
Want Some More Texting Tips For The Capricorn Man?
I bet you thought this article was all I had for you… Wrong! I have more tips!
I couldn't fit them all into this article so I put together a guide on how to text a Capricorn man in a way that wins his heart.
Some say it takes a miracle or magic to get him to be attentive. That's not true!
You just have to know what to send him and how to say it.
I can tell you that some of the most difficult men respond to the tips I'm going to share with you.
If you're all in, then click here right now to learn all you can about texting a Capricorn man.
You've got ammo now from this article but believe me when I tell you that there is more to the complicated Capricorn.
Have you tried to text him and he left you on "unseen?" He sees part of your sentence and is turned off… but why?
There are things you should and shouldn't do when it comes to texting. I want to make sure you know these things so you can win him over and keep him forever!
Consider what you are doing right and also what has room for improvement…
Make too many mistakes and he will shut you out.
You definitely don't want that!
Take matters into your hands and make him want you now by clicking here!
I want you to have it all with your Capricorn man.
As always, I wish you all the luck in the Universe!
Your friend and Relationship Astrologer
Anna Kovach
---
---