Getting a Capricorn man's attention isn't so easy – he has his own rules of conduct and of course, each individual will be slightly different due to the aspects in their birth chart.
Is it impossible to flirt with him to get a quick reaction? No! You can do it and you can lure him to you but you've got to know exactly what to do, otherwise, you may fall short.
The Capricorn man wants to feel appreciated and inspired by the woman that captures his attention. How do you capture his attention though?
Well, I'm going to help you by giving you four flirty texts to make a Capricorn man reply immediately.
Stick with me and you'll get all the answers!
Impressing A Capricorn Man
The first thing you need to know before I give you the four text suggestions is what attracts a Capricorn man to a woman. When you have this down, it will help you flirt much more easily.
Capricorn men are sometimes known as the snobs of the Zodiac. They are very particular with what they like and don't like. They know what they want and will not accept anything but!
Impressing a Capricorn man includes doing things to dazzle him, such as having an intellectual chat with him. This can be done via social media or via text if you aren't in person.
He needs to see how smart you are because that's something he finds sexier than all else.
When you take photos of yourself on your phone to send to him, wear something sexy but classy. Don't reveal too much skin. He likes a more modest looking woman.
He likes to fantasize about what you may look like under the clothes and it makes him excited to think about if he'll be the lucky guy to find out.
Your independence must be shown to him as well. If he thinks for one second that you're dependent or clingy, he will shut it down or ignore you.
A Capricorn man wants a woman who can take excellent care of herself in all ways without a man.
At the same time, he wants a woman who will see him for who he is, give him appreciation when he's done hard work or something special for you. He loves praise but it has to be authentic praise.
So now that you get a good idea of what he's looking for and what he doesn't like, you can make better sense of what will help lure him. Make a Capricorn man reply immediately by impressing him.
Okay, are you ready now to find out what the best texts are for getting his attention so that he responds quickly? Great! Let's go!
4 Flirty Texts To Make A Capricorn Man Reply Immediately
1. Flirty Riddles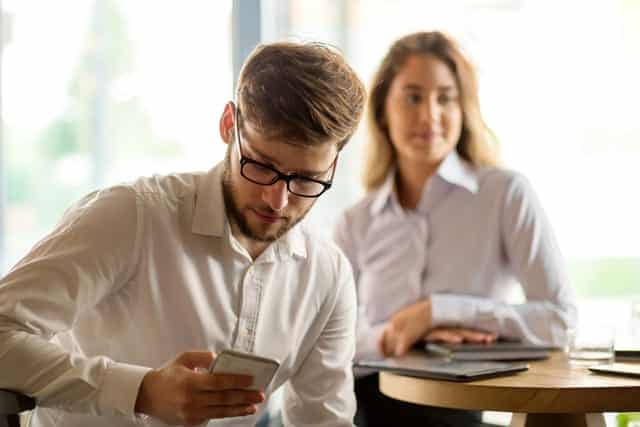 I don't know if you've ever heard of flirty riddles, but they are a really good way to get through to your Capricorn man. This works great through text. He loves exercising (and showing off) his intelligence, so this is perfect!
If you look up "Flirty Riddles" you'll see a bunch of websites where there are some pretty fantastic examples.
Cute trivia, sexy or flirty facts or puzzles are the way to go; something a little bit brainier than just your average knock-knock joke or word pun (at least for impressing him at first – then see section three for the funny stuff!)
They are an awesome flirty way of getting a Capricorn man's attention. Surely by springing a riddle on him that happens to be very cute will make a Capricorn man reply immediately.
Give it a try and see if he gets it or if he's confused – either way, it's very easy to connect and be cute with him. He will dig it!
2. Simplicity Is Best
The Capricorn man doesn't often like small talk. If you want to message him just because you want to hear from him then you keep it simple and short.
You can say something like: "Hey how's it going? What are you up to?" It gives him the chance to realize that you care. That alone should make a Capricorn man reply immediately.
Unless he's very busy or has other stuff going on, he should get back with you ASAP. How great is that?!
Just remember that you have to text things that hold his interest.
Give him compliments about his talents, his abilities, and even his looks.
3. Jokes And Memes Work Well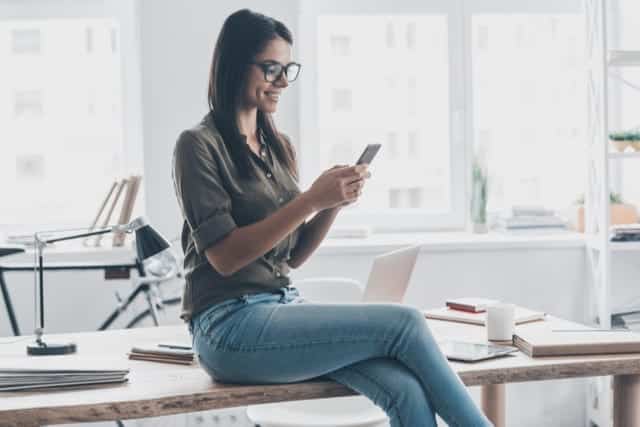 Who doesn't like a funny text? If you're good at telling jokes or kidding around with your pals, think about him and what he'd like.
If you know anything about him, you can make a joke along the lines of what he gets into. Don't ever pick on him though because he doesn't like it.
An example would be that he's into fishing. Find some hilarious fishing jokes unless you can make some up on the spot. He loves a woman who can make him laugh.
If he finds it funny then this can make a Capricorn man reply immediately. You can find a meme with a good joke on it that he'll enjoy as well.
Essentially, when a woman can be funny, then he knows he can always depend on you to help lift his spirits on his bad days.
4. Send Classy Pictures
Men love to look at beautiful women. The Capricorn man is no different. If you really want to make a Capricorn man reply immediately, then send him pictures!
Remember, he's the old-fashioned type, so a classic outfit would be your best bet. Don't put on a ton of makeup. Keep it light and sexy.
He loves a woman he can turn into a fantasy. He prefers to unwrap his gift (you). Let his imagination go wild.
You're trying to appeal to a man who is much like the men in black and white movies. Remember how the women dress in those? That's what he likes. Most of all, seeing your beautiful face will be a treat for him.
Do that randomly and there is no doubt he will want to message you back fairly quickly. He will thank you. He isn't much of a romantic but he appreciates you sharing "you" with him.
Once you understand him a bit better, then you'll know what will work best with him. You get that ball rolling and you'll be glad you did. I know this was only four text examples, but if you stay on track, it will work!
Another thing is that if you know of places he'd like to see or travel to, you can find pictures of the location and send them to him. Send pics of anything you know he's into.
He will love that you thought of him. It means that you're someone he can get the appreciation and care that he truly wants from a woman. You can totally nail this!
Use your finesse and swagger. He'll love it as long as it's classy and thoughtful. You can also ask him for advice. He's amazing at giving some useful solutions.
Still Want More Texting Tips? I Can Help!
Look, I know the Capricorn man is rather complicated, and sometimes what you think would work just doesn't.
Maybe he has aspects in his chart that make him more sensitive.
He may not be like the typical Capricorn man.
What if he has a watery Moon and is emotionally different?
How do you get through a brick wall to create the most pleasurable communication?
Your Capricorn man can be reached but you're going to have to do the work if you really want him to give you what you want.
One thing I definitely recommend is finding out who he is via his birth chart.
You'll get to know what drives him and what works best on him.
Something else that can help you is the guide I put together for texting a Capricorn man the right way.
What is most effective in luring your Capricorn man to where you want him…
If you want to find out more I highly suggest you click here right now! <<
You can keep doing it your way or you can try a different way that may be more lucrative.
What have you got to lose?
Do the right things instead of all the wrong things.
It's up to you to get that sexy Capricorn man eating out of your hands.
Isn't that what you want?! Of course, it is!
This simple guide is easy to follow and it will give you all the knowledge you need to text your Capricorn man.
I truly hope you do what is right for you.
As always, I wish you all the luck in the Universe.
Your friend and Relationship Astrologer,
Anna Kovach                                                                                                                                                                                                                              
---
---