Capricorn men are certainly interesting characters. These guys know what they want in life and aren't afraid to go for it. But this might make you wonder, do Capricorn men like to be chased? Or do they want to do the chasing?
What is the deal with Capricorn men? Do they want to chase women and show them they're wanted or do Capricorn men prefer to be chased? They seem so complicated at times, so it can be pretty confusing when you can't figure out how to approach things with this guy.
What happens if you don't chase a Capricorn man? Here is the truth about the Capricorn man to help you figure him out… Keep reading for useful information that may provide insight:
Do Capricorn Men Like To Be Chased?
The short answer to this question is, no. Typically he doesn't want to be chased. It makes a woman seem desperate or too quick to jump into a relationship. That scares him.
And this is backed up by his Astrology, you see, Capricorn is ruled by the planet of Saturn. Saturn is all about timing, karma, restrictions, duty, and responsibility.
You can see, from having Saturn be his ruling planet, this guy takes things extremely seriously and is likely very traditional and conventional when it comes to love and relationships.
He wants to take his time, get to know a woman, become really close friends with her, and then make sure that the two of them will mesh well going forward.
On that note, don't chase a Capricorn man! It's pretty simple. If you're the more aggressive type, you will need to learn how to slow down and take your time. Let him make the moves.
By backing up and being a truly classy lady is how you make a Capricorn man chase you. It's pure and simple. He's a very old-fashioned type of guy that likes to court a woman instead of diving right in.
If he does dive in faster than he should, he will likely feel bad about himself and will question things, thus, taking steps backward. It's very important to ensure that your Capricorn man takes it nice and easy, but this also depends on other factors in his natal chart, like what his Venus or Mars are doing.
If the Capricorn man you are dating has either Sagittarius or Pisces Venus, then he probably won't mind being chased as much as, say, a Capricorn, Aquarius, or Scorpio Venus.
Sagittarius and Pisces Venus are a little more flexible when it comes to love and prefer not to play by the rules. So, a little bit of chasing is okay when it comes to these particular Capricorn men.
However, if he has Capricorn, Aquarius, or Scorpio Venus, then it's another story. These guys love having the power and making the decisions. If you chase him then you simply take away his need for control and being in a power position and he doesn't like that one bit at all!
And then when it comes to his Mars sign, if he has it in either Taurus, Cancer, Libra, or Pisces, then he is more likely to be open to you chasing him. These signs tend to be a little passive-aggressive or shy when it comes to love.
So sometimes it is just easier for them to have a woman pursue them to give them the confidence to understand that she is interested in him.
I would say all the other Mars signs will feel a little bit put off if a woman comes on too strong. Keep this in mind if you know what his natal chart looks like.
But a Mars in Aries, Scorpio, or Capricorn is going to hate being chased in particular. These guys tend to be very masculine and want to feel like they are the boss and taking the reins. When a woman takes this away from them, it doesn't make them feel good. So best try to contain yourself when dealing with one of these guys.
If you try to chase after the Capricorn man, he may very well see it as embarrassing. He will think you're lowering yourself from your highest capabilities to play after him.
Again; he'd prefer someone to just out and out tell him that they like him and are interested in getting to know him. This is far more of a turn-on and less intrusive or childlike in nature.
Some signs such as Aries are into chasing or being chased. However, Capricorn is probably the most mature out of the signs as he finds it boring and cliché. With that said, show the Capricorn what your qualities are.
He wants to see who you are at the core; he wants to know what you want, what your intention toward him is, and what you would like to happen between the two of you.
Knowing this information helps him to figure out if he wants to spend the time to get to know you or not. He will take his time either way as he is trying to find "the one" and will accept nothing less.
A Capricorn Man Playing Hard To Get – What Could This Mean?
As a general rule, Capricorn men don't really play hard to get. They're not into games period, of course, unless it is in the bedroom. But messing with your mind to get you to like him just isn't his style.
However, if you do come across a Unicorn and suspect that a Capricorn man is playing hard to get then there are a few reasons he might be doing this.
He might be bored and is messing with you until someone better comes along or he isn't sure about you and is testing the water to see if you are a woman worthy of his time, or finally, he might just be immature and not ready for something serious.
It all depends on the individual of course, but most Capricorn men are straight-shooters and will tell you like it is.
4 Ways To Make A Capricorn Man Chase You
Follow these steps to understand what he is thinking and what you can do to make him run after you like a man obsessed.
1. Be Straightforward About What You Want But Don't Be Clingy
Since the Capricorn man does already know what he wants, he isn't into playing any sort of game which would include chasing. Either he likes someone and he puts in effort or he doesn't.
If a woman is interested in him but says nothing, then this shows her character and isn't strong enough to be able to handle the Capricorn guy. He's into independent women that know what they want and aren't afraid to go after it.
I'm not saying you should chase him. He's really not into chasing and sees it as completely unnecessary. Either you like each other and do something about it or you don't.
Playing silly chasing games will only show him that you're not mature enough to handle an adult relationship with him. He absolutely will not chase a woman. He figures that if she needs to be chased, then she's not his type.
He's far too picky to give anyone any sort of chase. His willpower is tremendous and takes a well-anchored woman to capture his attention and also maintain it.
The Capricorn in relationships can seem really difficult and hard to figure out. The thing is, if you take your time and are patient, you will learn how to rope him in by being a bit more passive rather than aggressive.
2. Encourage Him And Be A Source Of Inspiration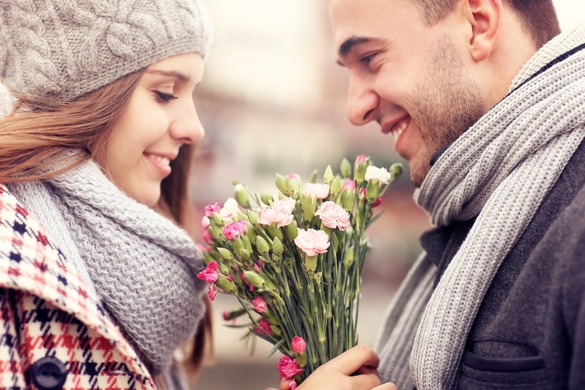 The willful goat will respond more to when he feels encouraged or if the woman that is into him shows her integrity to inspire him. THAT is how you get a Capricorn man.
He seems awfully demanding, right? He does this because of the fact that he knows what he needs and what is best for him, unlike most other men. Therefore, he won't waste time playing silly games.
Chasing, to him, seems very much like silly games a child would play. He's not into it so you'll neither find him chasing after you nor will he respond in a positive way to you chasing after him.
It's best you just be straightforward with him as far as what you'd like to have from him or with him. He'll respect you far more for being direct and going after what you want.
Actually, it will be quite a turn-on for a woman to approach him and be direct with him. It doesn't happen often and it will certainly leave quite the impression for this hard-to-get guy.
This is one of the best ways to make a Capricorn man chase you. Optimism is a good tool to use with him. He appreciates it and it makes him feel good about you.
3. Just Be Yourself
Winning the heart of a Capricorn man may seem difficult but worth it. If you really like him, talk to him about it. Don't talk to others who you want to "deliver the message" through.
Don't try to make public displays of affection either. That is something he really doesn't like as he's a bit old-fashioned. Hang in there and take your time. Patience and determination are what it takes to win this guy.
If there is any chance between you two, be calm and take your time. Let him take lead in the relationship so that you know where you stand and what he wants out of the situation between you two.
Listen to him. He isn't one that says one thing to you yet means another. He's very straightforward with you typically. That can either be a very good thing or a not-so-pleasant thing.
That will be up to you as far as what you want to come of it. I do warn you though; if you try to chase after him or try to go public, he will likely shut down and shut you out.
Remember, don't chase a Capricorn man. Doing things that freak him out, make him feel uncomfortable, or seem unsuitable for a woman to do will make him shut down on you. Be wise and be careful!
4. Be Patient With Him
Capricorn men want you to understand that they are willing to take their time in the interest of developing something long-lasting. If you are not, then you may want to go ahead and move on.
He wants the woman who CAN and WILL wait for him. He wants someone who gives him the time he needs to figure out if you're the woman that he wants to spend his life with.
As a rule, he typically will not waste his time or energy on someone he doesn't feel it may go somewhere with. He isn't into flings or one-night affairs. Not to say it's impossible, but it's not likely.
He wants that one woman who will put all others to shame and make his life purpose-filled. That one woman is what he will dedicate his time and affection toward working at.
It might be a good thing to learn how to play hard to get with a Capricorn man. Since he wants things to progress slowly, it's also good not to always be available for him.
If you're struggling to find the right words to make him know you're interested without seeming clingy or too easy, I strongly recommend checking out my 100 Magic Phrases for Capricorn Man … It will set you on the right path with your hot Capricorn guy!
If he tries to get physical with you when it's still early on, put your foot down and tell him that you're not that easy and you prefer to wait until you two are more committed. He will actually respect you for this!
This is the preferred method of how to get a Capricorn man to chase you. It makes it easy as pie for him to make the effort to show you how he feels and what he wants.
Will A Capricorn Man Lead You On?
For the most part, Capricorn men are incredibly respectful and trustworthy. These aren't the type of guys to lead you on as a general rule.
My experience with them is that when they are into you, they are warm and inviting, but if they aren't, they won't be nasty, but you'll still get the idea that they aren't exactly interested in you.
A Capricorn man has much better things to do than lead a woman on and waste both his and her time. But of course, there are always exceptions to the rule.
Do you think you are dealing with a Capricorn man who might be leading you on? Well, luckily for you, I am here to help out. 
Read also: How to Tell If Your Capricorn Man is Using You
Make your Capricorn man chase you and win his heart in just 30 days.
If you're tired of feeling frustrated and unsure about where you stand with your Capricorn man, then listen up.
Most dating advice out there won't work with a Capricorn man.

They're different than men of other signs, and if you try to use standard dating advice, it can backfire.
But don't worry, there's a simple solution.

You just need to know the specific phrases to tell him that will make him never want to lose you.
In just 30 days, you can turn everything around with him and have him chasing after you.

These phrases are the key to unlocking his heart and getting him to commit to you.
Don't waste any more time feeling insecure and unsure about your relationship.

Take action now and learn the secrets to winning over your Capricorn man.
Go here now to find out the specific things your Capricorn man needs to hear to make him chase you and fall deeply in love with you.
Wishing you all the luck in the Universe.
Your friend and Relationship Astrologer,
Anna Kovach
---
---