Are you really into a Capricorn man but wondering if you're able to provide him with all that he desires? What are those things a Capricorn man REALLY craves in a woman that is by his side?
Better yet, what does it take for you to be Capricorn man's dream woman? Here are some things that turn him on and make him want to keep you in his life. Be sure to take notes!
What A Capricorn Man Likes In A Woman
Capricorn men definitely have an ideal woman in mind. How could he not? He is probably the most ambitious guy in the Zodiac and knows exactly what he wants not only in his life but also in his ideal relationship.
A Capricorn man's dream woman is someone he can rely on. He is looking for a woman who can add stability to his life and who will support him no matter what.
He also loves it when a woman takes care of herself and always looks her best. In all honesty, a Capricorn man's dream woman is probably a bit of a trophy wife. He wants someone sexy to have on his arm!
Luckily, the thing with a Capricorn man is that he is so decisive about what he wants in his relationships, that he is going to go after what he likes, and hopefully that is you!
Top 5 Traits That A Capricorn Man's Dream Woman Has
1. To Feel Freed In A Relationship
The Capricorn man may be "hard to get" but once he does finally settle down into a relationship, he actually feels more able and free instead of tied down. He really doesn't care much for wading in the dating pool, to be honest.
The Capricorn man feels he can be himself completely once he's found his mate and can be fully immersed in the world of a serious relationship. He's a bit different from many men of other signs.
He doesn't avoid commitment like some guys. He will still take his time but only because he wants to make sure that who he commits himself to is the right person to dedicate himself to.
It's more of a self-protection thing than it is being picky or prudish. Though they are sometimes seen as prudes; they are far from it. He wants the security and safety that a relationship can provide.
A Capricorn man will feel more assured and confident when he finally has the love that he's always desired in his life.
If you're struggling to be laid back with a Capricorn man, I strongly recommend checking out my 30-day Capricorn Man Love Challenge… It will set you on the right path with your hot Capricorn guy.
2. Inspiration From A Lady Love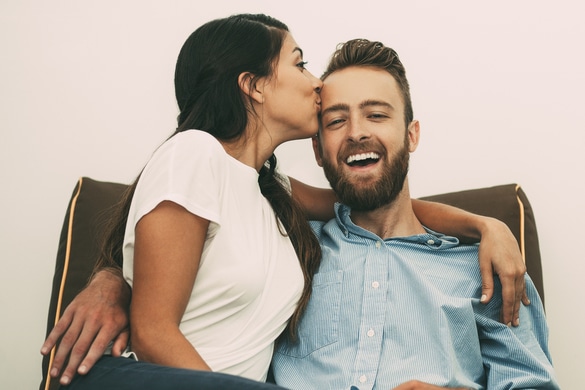 Capricorn men will gravitate more toward a woman who is about something in her life. Watching a woman stand up for herself and chase her dreams will not only inspire him but turn him on as well.
He most likely will not settle for a woman who isn't motivated to do something with her life to make it better. Women who do the basics to get by and spend the rest of their time on the couch will not turn him on.
That type of woman isn't what he likes and he'll likely walk in the other direction. It's likely he won't be seen with this type of woman, actually. He'll want to be seen with a woman who is in high demand or has some type of authority.
He likes leadership and will respect a woman who commands attention by way of success in her life. He thinks it's sexy to see a lady who can be the head of her department or class; whichever the case may be.
Watching his woman be a big success inspires him to also do all he can to be successful. It's the motivation for him to be better than he was before as well as what he will be later on down the line.
A Capricorn man's dream woman will absolutely know how to inspire him and make him feel alive. She will cherish him in a way that will move mountains. He'll feel like a poet basking in her love.
3. Daily Love Inspires
This is one of the guys of the Zodiac who enjoys being in a committed relationship and all the trimmings that come with it. What do I mean? I mean being able to have someone to come home to, someone to cherish.
He's among the caretakers of the zodiac as well. This means his life is built on being a strong man, teaching or learning all this strength and wisdom, and of course, being a caretaker.
The Capricorn man wants to be a provider and protector. Nothing turns him on more than being able to be "the guy" that helps make a woman's dreams come true. No one will be more supportive of your goals than this goat.
He's strong, has willpower, and is all-inspiring. He will feel complete and excited about his life when he's in a full-blown relationship to last. He feels he can let his guard down and be who he really is.
Typically, a Capricorn man is a bit guarded when he's single but once he becomes a unit with his lady love, he feels stronger and more powerful. He enjoys being part of a "team" rather than remaining autonomous.
4. Sharing A Life Together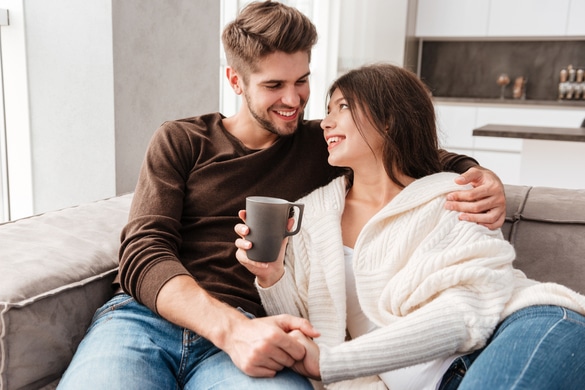 Ultimately, the Capricorn man doesn't want to live alone. He isn't one that's good at being an eternal bachelor. Although he may go through bouts of testing that theory, all in all, he wants to be loved and to love someone.
The Capricorn guy is built to be a partner, husband, and father rather than be a hermit type that is alright with being alone. His goal and desire in life is to make his special someone feel happy, fulfilled, safe, and desired.
This man has no trouble serving the woman he loves. This isn't to say that she should lose her independence as that is one of the qualities he's turned on by. However, in some way, he wants to be her rock.
He feels it's his life's mission to be someone else's anchor. There is nothing wrong with this but he really must be careful in the choice of mates. He sometimes draws in women who want to take advantage of or turn him into a doormat.
This is why he'll take his time in choosing the right mate. He wants to be absolutely sure that the woman he chooses will be independent, have her own passions in life, and will appreciate him for who he is.
5. Intellectual Banter That's Fun
Naturally, a Capricorn man will choose a woman who they have much in common with so that they have plenty to talk about and plenty to keep them busy. He'll love discussing their latest favorite album or movie.
He may also want to discuss much deeper issues that they feel need some work in the world. Having his perfect match will be something that drives him in life and gives him more meaning than he had without her.
Many Capricorn men will be very successful while they're in a happy relationship. This is when you'll see them at their very best in life. He'll seem to have it all together and be on top of the world.
Is there any more fun with him than by creating chit chat that is fun and smart? He loves a woman who can hold her own in a conversation instead of looking to someone else for ideas.
Being witty is an amazing quality a woman has that will absolutely appeal to the Capricorn man's senses. It will turn his head, his mind, and his heart to lean toward her.
Be brainy with him and let him know that you have what it takes to keep up with him. His brain is the best organ to turn on in this guy. Once you do, he'll see you as a keeper.
This is why gifting him with amazing conversations will turn him on. Give it a try and watch him. Watch him turn into a big kid when he gets excited. Making jokes that he gets will also get noticed.
The Capricorn Man – When He Likes A Woman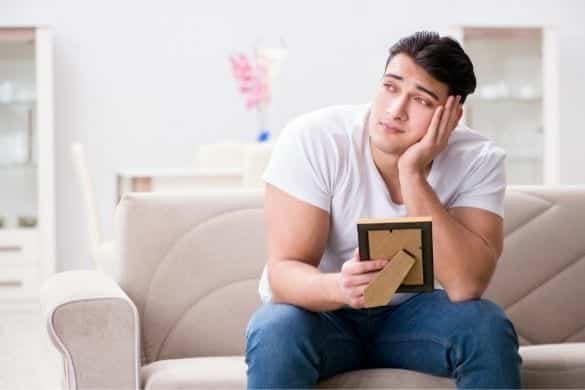 When a Capricorn man likes a woman, he makes it known. He may be a bit shy and reserved at first, but this is a guy who goes after what he wants in his life and isn't going to let anyone get in his way.
He is a wonderful romantic partner and takes things to the next level in his relationships. A Capricorn man isn't a casual dater, he sees relationships as something extremely serious in his life.
So, when a Capricorn man likes a woman, he is going to treat her with the utmost respect. He is an extremely traditional guy and feels most comfortable in conventional gender roles. He wants to be the guy to pursue the woman of his dreams.
It is super important for him to feel like a man throughout the courting process. So, he tends to go for an ultra-feminine woman who is happy to follow his lead! A feminine woman is definitely a Capricorn man's type.
What Do Capricorn Men Like?
Capricorn men make wonderful partners. They love tradition and stability and find these qualities really important in a relationship. A Capricorn man's dream woman will most definitely encompass this kind of energy.
He is quite motivated and ambitious so he needs to be with a woman who understands his drive and is happy to support him in making his dreams come true. He is a great leader and loves it when a woman is happy with following his lead.
There is a side to him that is super dependable and pragmatic, and this causes him to search for these qualities in a partner. He can't be with someone who is totally wild and crazy. It just wouldn't work for him!
He can be quite serious and is in a bit of a mood most of the time, so he really needs to be with a woman who understands his need for depth and seriousness, but it would also be good for him to be with someone who brings lightness and playful quality to the relationship.
He definitely enjoys it when he has a woman by his side who is also super hardworking, in fact, being with a lazy woman would be a major turn-off for any Capricorn guy. He wants to be with someone who wants more from her life.
He isn't much of a spontaneous guy, but he is definitely as solid as a rock and appreciates it when his partner is stable and reliable as well.
It takes a really long time for him to put his walls down, so he needs to be with a woman who can be patient with him. He needs someone who can take things slowly without putting too much pressure on him.
Read next: How To Become A Priority For Your Capricorn Man
Conclusion
So, ask yourself if you have what it takes to be a Capricorn man's dream woman. I'd be willing to bet you do. If you take things slowly and be his very best friend, you can accomplish more than you can imagine.
This man is not easy to get but if you do things right, you'll easily penetrate his heart and get him to see you for who you are. Loving him may be difficult but sometimes he's well worth the effort you put in.
The only way you're going to know that though is if you invest in him. If he's important to you, you'll absolutely do what you have to in order to make this guy crave you and your touch.
He's looking for a specific type of woman and if you ARE that woman, then by all means, do what you need to in order for him to figure that out. He's picky but if you're the one, then you're going to knock his socks off.
Become his Dream Woman in 30 days (or give up forever)
Looking to become the woman of your Capricorn man's dreams, but getting frustrated with how slowly things are progressing?
Do you wish you had a magic ball to see into the future to KNOW for sure if he's "The One" for you?
It's time to stop trying to figure him out and start taking action!
Well, I have fantastic news for you!
There is a simple system that takes only 30 days and will draw him to you like a magnet, getting him to fall deeply in love with you.
But if he isn't your soulmate, you will know for sure and can move on.
This powerful program will give you everything you need to know if your Capricorn is your forever guy.
He WILL respond quickly to this approach if he IS the one for you, and if he doesn't, you will know in 30 days so you don't waste any more precious time.
We all know that Capricorn men can be stubborn, and leave you waiting and wondering for a very long time.
But with this program, you'll have the tools to get him to commit quickly.
And if he doesn't, you'll know he isn't the right man for you and can set him loose to find your true soulmate.
So no more waiting around or playing it cool. It's time to get your Capricorn man to step up or move on.
Don't miss out on the opportunity to become his dream woman in just 30 days or give up forever.
Get your answer now and start your journey towards a fulfilling and lasting relationship with your Capricorn man.
Wishing you so much love and happiness.
Your friend and Relationship Astrologer,
Anna Kovach
---
---