So you're completely in love with a Capricorn man but not sure why he hasn't been forthcoming with his own feelings with you? Why is your Capricorn man holding back? Here are some reasons why he hasn't made his move yet.
The Capricorn man distancing himself is a problem and it's a good idea to figure out the reason. Keep reading to learn as much as you can about this confusing and difficult to figure out guy.
He Isn't Sure About Commitment
One of the main things you need to know is that he's not going to commit without one important ingredient. Capricorn man wants to be friends first and foremost.
Getting into a relationship with someone he doesn't know well is not something he does. This makes him very leery when a woman wants to commit before he's spent ample time with her.
That means that if he isn't sure about you, he won't be sure about being in a relationship with you. That isn't to say that he doesn't like you or wants to be with someone else. It's more that he doesn't know yet if you're the one.
Capricorn men tend to take their time when they commit. They want to be absolutely sure that you're going to stand the test of time, inspire him, and remain who you are.
He's afraid of being with someone who will change once the commitment has been put in place. He wants to be loved for who he is and wants to love a woman for who she is.
It's that making certain that she is who she appears to be is what makes him take his time. There is no way to know for sure if someone is who they say they are without time elapsing and getting to know one another fully.
That being the case, sometimes Capricorn will step back to see how you respond to him. He has to test you and make sure that you're going to be there for him when things get rough or silent.
Capricorn man won't commit without being certain of what he's doing with himself and where his future is headed. He also needs to know you more.
Perhaps He Isn't Into You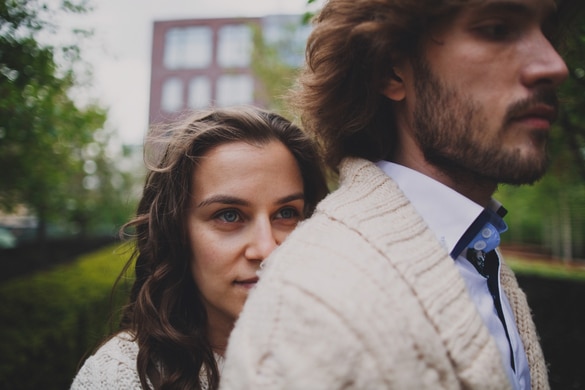 This isn't the popular answer of course, but there is the chance that he just isn't that into you. Capricorn men will become despondent or even distant if they are not interested.
Many times, he'll just come out and tell you that he isn't into you in that way or just wants to remain friends. Take it at face value. He's not telling you one thing but meaning another.
If a Capricorn man tells you he only wants to be friends, he is being very serious and isn't just saying it for the heck of it. I've had a few women write in and say he tells them that but they feel he has feelings for them.
No, if he tells you he doesn't, he doesn't. He may also feel his life isn't lined up for any relationship at all. As such, he will blow you off for anything more than just a friendship.
Just remember that sometimes it starts out as only friends and develops into more. This is why Capricorn man wants to be friends first. It's part of the process of dating him.
Something else you need to know is that Capricorn man won't commit to someone he doesn't feel a connection with or feels at least compatible to some degree.
He Isn't Ready to Be With Anyone
It's possible he's been through the ringer in another relationship which makes him a bit gun shy about getting into another relationship. Perhaps he's still carrying around emotional baggage.
If he isn't ready, he'll likely just tell you that though. He won't be one that will act like he's hot for you but then shies away. Not to say he can't do the hot and cold act, he can and will, depending on the circumstances.
What I can tell you though is, they have high integrity and will often just tell you that they're still wounded or are dealing with past garbage and are simply not in the right space or time to begin a new relationship.
Only those that are young or inexperienced will not know what to do with themselves thus resulting in a Capricorn male who backs off when he gets too close to someone.
So beware of the brooding in silence types. If they seem as though they're sulking or suffering from depression, they probably are and nothing about you will change this. He is who he is and only HE can change it.
His past will often dictate much of what he decides in his life for the future. Just like you, he may have been hurt or had difficult times. He just takes longer to recover than many.
The Cautious Capricorn Mind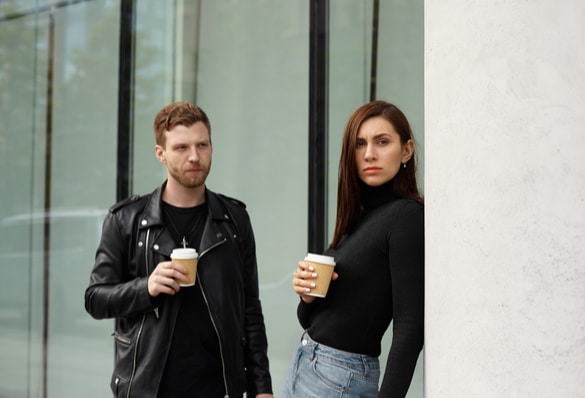 As you may have read in some of my other articles, the Capricorn man usually takes an inordinate amount of time before he'll commit himself to someone special. He has to be sure and then be sure some more.
Capricorn man isn't one to quickly dive into something that he isn't sure of. He doesn't throw caution to the wind. So if you're involved with a Capricorn man, you can expect to wait until he is sure of you and of the relationship.
If you know he's not being cold with you and hasn't "friend zoned" you, just give him time to come around. If you truly care about him, you'll be willing to wait and give him all the space he requires.
There is no need to hurry up nor to push him into something he's not sure of. If you do try, he'll likely push you back and then you'll be left wondering what just happened.
Capricorn isn't nice to people who push them. He would rather logically discuss things and if this means ironing out what is going on between you two, it's best you talk to him about it instead of worrying unnecessarily.
Sometimes Capricorn man goes silent to make some kind of point. If not a point then he is subconsciously being very cautious. This is something to pay attention to and take note of.
He May Be Waiting For You to Speak Up
Capricorn men are typically into women that are independent and know what they want from a man. If you're sitting back and waiting for him to take the lead, he may not be aware.
It's possible he has no idea how you feel or what you want which would make him proceed as though nothing is happening. In this case, you may want to speak up and make it known what you want.
If you never tell him what you want or where you see things going, he'll never actually know for sure thus holding back on pushing things forward. Why would you try to cultivate something you aren't even sure is there?
Make sure he understands you want something more with him. Once he has that information, he can then decide if he wants the same thing or if he feels one of the other options I've mentioned in this article.
Capricorn Man Distancing Himself – Why does this happen?
Something else you need to know is why Capricorn man goes quiet on you. As ridiculous as it may seem, he sometimes does this if he really likes someone.
He fears what could happen if he keeps trying to build something and so it makes him have a knee jerk reaction. He will pull back and need to think things through some more.
Another reason Capricorn man goes silent is because he's aware of your feelings and perhaps isn't on the same page. He fears that he will hurt you and because you're a good person, he tries to be subtle by going quiet.
He needs time to process and tell you what he's thinking or feeling. The Capricorn man goes quiet when he needs to reflect and figure out if this is going to be something he will grow or something he should walk away from.
I know it sounds awfully confusing but it's actually sort of black and white in his mind. He knows what he has to do but doesn't often communicate it to anyone else.
The Capricorn man won't commit until he's absolutely positive that you are the one he wants to have a future with. That is why he takes so much time to figure things out.
Conclusion
Capricorn man distancing himself is a normal phenomenon. It doesn't seem normal to anyone else. He's a rare type of guy. He's old fashioned and he takes lot of time to decide huge life changes.
The bottom line is that you're going to have to have patience with him if you want to be with him. He's not going to move fast and he's not going to allow for pressure. Also, Capricorn man goes silent when he feels panic.
You can absolutely succeed with him but it's going to require class, patience, and time. You have to learn how to court him and allow him to be the man he is as far as doing things his way.
Always remember Capricorn man wants to be friends first. If you can do that, you may be able to convince him of more over time. If Capricorn man goes quiet, it's a need for caution for you.
Speaking of his way, did you know that alluring actor Kevin Costner is actually a Capricorn man? Wow! I wouldn't have guessed that in a million years. He is tall, sexy, and smoldering for sure!
Find out what else drives the Capricorn man in relationships by CLICKING HERE.
Has your patience paid off and your Capricorn man took the plunge? Tell me how you did it!
Share your story (or situation) with our community in the comment section below (don't worry, it's anonymous).
Wishing you all the luck of the universe
Your friend and Relationship Astrologer,
Anna Kovach
---
---