Capricorn men are quite hectic individuals. They live for their work and are incredibly ambitious, so ambitious in fact that they often neglect everything else in their life in the pursuit of getting ahead and being successful.
What is it about that hard-to-get Capricorn man that makes him come off as mysterious? While he can often seem warm and inviting, he also has a side of him that is something that you may want to be aware of if you're getting involved with him.
Capricorn men are strong, independent, sexy, and intelligent. They have high moral systems that they live by and expect others to adhere to their standards. While they have some very positive qualities such as dependability, they also have another side to them that can be quite dark and unpleasant to deal with.
If you're dating or are about to start dating a Capricorn man and would like to know what negative traits he may have for you to look out for, then continue reading.
Astrological Downfalls For A Capricorn
One of the things that make Capricorn man so tricky is the fact that Saturn is his ruling planet. This makes him very deep, very stubborn and set in his ways. He thinks and feels in a much deeper capacity than most people.
This makes it so he's often in his own head, which makes it hard for him to relate to others. He's always trying to find the right way to do things that will fulfill him on a spiritual level.
It also contributes to him being "in charge" or on top. It makes him take leadership roles even where they aren't necessary. This includes being in a love relationship. He tends to want to call the shots.
When he's dating, he comes off as arrogant at times and rather cold at others. He's a mystery. You start to get to know him then he throws a wall up to let you know that you've gotten to know enough for now.
He wants you to get closer to him, but he doesn't want to risk himself or his heart, so he backs up after he starts to become too cozy. The Capricorn man is the righteous rebel. He goes against the norm but lives to high standards.
He's an Earth sign, so his feet are planted firmly into the ground. In fact, he's almost cemented in it. He is immovable, and anyone who tries to push him over will probably get knocked out in some way, even if only verbally.
Strong-Minded And Stubborn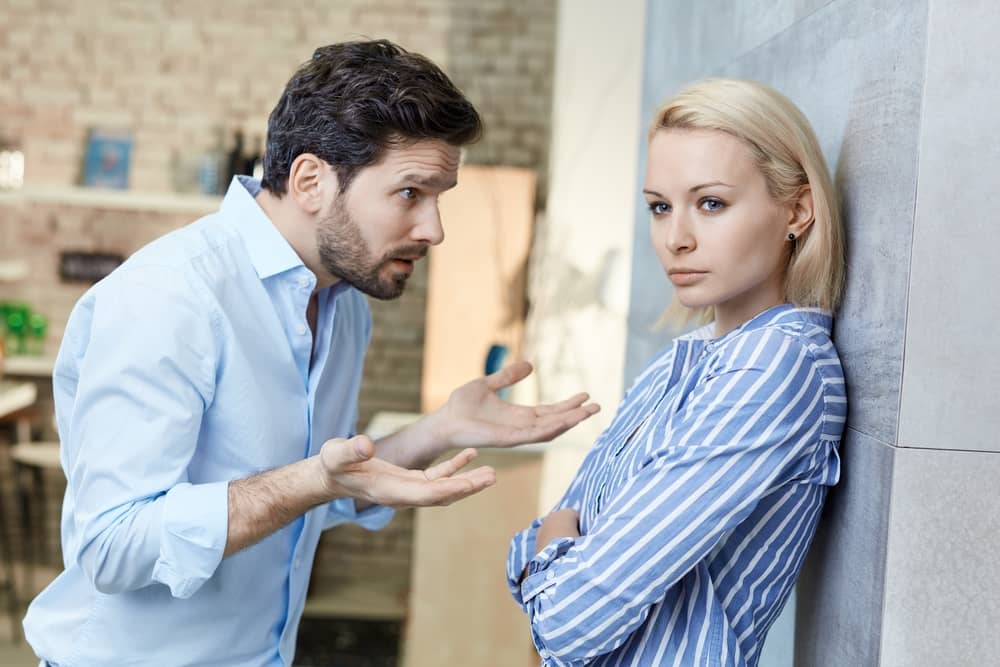 The Capricorn man is known for having a real stubborn streak. If he wants something a certain way, he's not easily willing to bend on it. That's not to say he won't but it will be hard to convince him to.
He thinks the way that he does things or the way he perceives things is the correct way. He finds logic in it and doesn't make decisions based on emotions. So, this is why he tends to not want to bend with situations.
It's a hard thing to prove to him why he is wrong if he IS wrong. The best thing you can do is show him the logic in why he may not be correct. Don't call him out though, as he'll see it as an attack.
He has conviction and knows that what he's doing or what he's thinking is right and there is no changing his mind. Sometimes he can actually be a bit selfish as well.
Arrogant And/Or Unaware
The Capricorn man knows he's something special so he's not afraid to flaunt it. It's something that comes very naturally to him. Ironically, he doesn't like women who are cocky yet he tends to have that air about him.
He can sometimes also appear to be somewhat aloof and doesn't pay attention to other people's feelings. He is logical and so their feelings are irrelevant to most situations. At least, that's how his mind works.
His confidence seems like he's a bit of a snob. In some ways, he can be one depending on his preferences. He tends to always want the best in every facet of his life.
I don't think he really means to but he can seem as though he thinks he's better than anyone else. Again, this isn't something he likes to see in a woman yet he seems to have this trait himself.
Uncaring Or Cold
To a Capricorn man, emotions are a waste of energy. Therefore, he'll always deal with life situations based on logic. He's a bit like Spock from Star Trek. "That is not logical" is how he will answer emotionally-based choices.
Sometimes he just seems cold-blooded. If you're doing something that is emotional, he will look as though he really doesn't care. He isn't the best at comforting those who are hurting on the inside.
He is the type that will say "there-there" but not really mean it. He cannot relate; therefore, he doesn't know how to cope with giving you comfort. To get him to understand better, you may have to explain why you feel the way you do.
Again, he may not "get it" and may reply with logical solutions to your pain rather than just hugging you and telling you everything will be alright. He'd rather say something like: "get up and keep swinging, never give up."
He simply doesn't understand why you would be crying or why you would feel upset about something. It doesn't make sense to him on an intellectual level.
Unsympathetic To Your Plight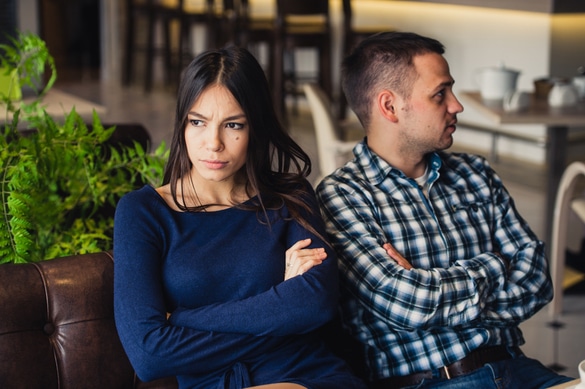 All the Capricorn man wants to do is take care of you in the best way he knows how. He isn't good at sympathizing with how you're feeling or with what your desires are.
He understands life's passion but most of this is wrapped up in his job/career. He wants to succeed in the best way possible and as such, feels that everyone else should have this same focus.
He's built differently than most men. He's the "breadwinner" type that wants to be the head of the household. Even if he isn't really, he wants the illusion that he does have control.
If he ever says he understands and is there for you, he doesn't understand. He may still be there for you though. He's good at being someone's rock and anchor. He just isn't good with the emotional part of it is all.
Now, if you don't mind that he doesn't emotionally get it but you know he's there for you, he'll always be loyal and love you. He'll always work hard to make it last.
Perfectionist
This man is always striving for perfection. The funny part is, he already thinks HE himself is perfect. Therefore, anything he thinks or does is going to be perfect. It's the others around him that need a bit of work.
He doesn't understand that the way he thinks isn't exactly normal to everyone else. He doesn't get why anyone would think differently than him. This makes him stand out in a crowd.
He has high standards in everything he does, people he spends time with, and certainly in the mate he chooses to give his heart to. Even with the negative traits he has, he manages to avoid them in the women he chooses.
The Capricorn man will want a woman who is strong, independent, positive, optimistic, caring to others, and humbled with manners. Anything less than that then he's scraping the bottom of the barrel.
The goat wants a woman who appears perfect on the outside. I don't mean so much physical appearance as rather her actions. He cannot see his own flaws with his arrogance. He can easily see other people's flaws though.
He will dig deep and hard to find the right woman for him. He is unrealistic in what he thinks he is and what he's looking for. However, when the right woman does come along, he'll recognize her.
Mood Swings Are Intense
The Capricorn man is mostly stable but he can have a tendency to be in a bad mood from time to time. This is especially true if something is going on in his life that causes him distress.
When he has this type of mood, he becomes negative, pessimistic, grumpy, and could say things he doesn't really mean. He may pick an argument or is set off easily by small things.
This type of mood is best avoided if at all possible. If you talk to him on the phone or see him in person and can tell he's in a not-so-nice mood, it might be best to just leave him alone so he can work things out with himself.
He will let you know if he wants to talk to you or vent out his frustrations but much of the time, he'd rather be alone with his thoughts. When he's feeling better, he'll come back around to his normal self.
I do also want to point out that he can be rather unpredictable with his moods. I say he's stable much of the time but the thing is, you never really know when these bad moods will come on so just be aware his temper is much like the planet Uranus; impossible to predict.
Arrogant Or Narcissistic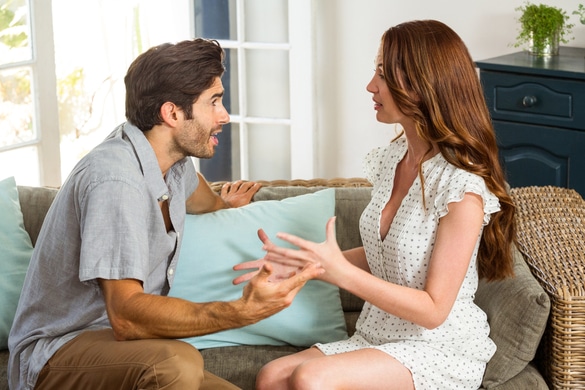 Some Capricorn men can swing to the extremes when it comes to feeling that they know what is best for themselves and everyone else around them. They know it all and won't easily accept anyone else's ideas.
He may come off as someone who cares more about what he likes or what he's doing than what anyone else wants. He's self-aware and he very much feels that he has a handle on most things.
He knows he's intelligent but he makes himself seem very cocky when he's being assertive. Being assertive is alright if you're going to use it for something positive. He, on the other hand, uses it for other things that are more pessimistic.
His thoughts or ideas are always better than anyone else's. At least, that's what he believes anyway. This is what gives him the arrogance that people see. He seems like a "know-it-all" that you really just want to walk away from.
He knows he looks good too so don't ever try to tell him differently or he will shun you after he puts you in your place. While he is very handsome, his attitude can make him start to look ugly.
Demanding In His Way
The Capricorn man has his own set of morals and standards. He expects most people to live up to it and when they do not, he is ready to boot them out of his life for good.
That being said, if you're in a relationship with a Capricorn man, you need to know that he's going to be demanding of you. He's going to have high expectations of what you should be and how you should treat him.
This can develop into him expecting too much and demanding you to be in a way that goes against your grain. Be careful and be sure to stand up for yourself. While he's demanding, he doesn't like doormat types of women.
He wants a strong woman who will not be afraid to tell him what is what and how she's not going to allow him to control her. He will try though and if you allow it, he'll think it's alright to always do it.
Put him in his place and tell him you'll be who you are and nothing less, he will have to accept it and love you "as is" or he'll have to realize that he can't have it his way which may make him flee.
If he does flee then you aren't missing out on much. A man who wants to give you up because you're not living up to his standards probably doesn't deserve you anyway.
Jealous And Untrusting
The Capricorn man is jealous by nature. He figures what is his, is his. He doesn't want to share and he surely doesn't trust anyone. He has to learn how to trust someone with time.
If you've just begun to date a Capricorn man, it's going to take time before he feels he can trust you. While he may come off as into you and happy, he has reservations in the back of his mind he won't share with you.
With time and patience, you might start to see signs of trust like how much he is willing to open up to you and be honest. The more he talks and the more time he spends with you, the more he will trust.
Keep an eye on how much you two talk. Also, keep an eye on the jealousy. Once he starts acting jealous, that's a sign he sees you as someone very special to him and also means he may be falling for you.
On the other hand, he may be jealous later on where he shouldn't be. If he trusts you then he shouldn't worry about other men. However, he will worry about them regardless because that's who he is.
He will always be suspicious of other men around you no matter how much you stress to him they are only your friend. He will always worry that they will cross the line and want to be more.
He will probably want to know where you are, what time you will return, and will ask you to call or text when you arrive safely at your destination or home. These are all traits the Capricorn man doesn't want you to know but you'll see them anyway because he's not good at hiding any of these things.
The Capricorn Man Is A Cheapskate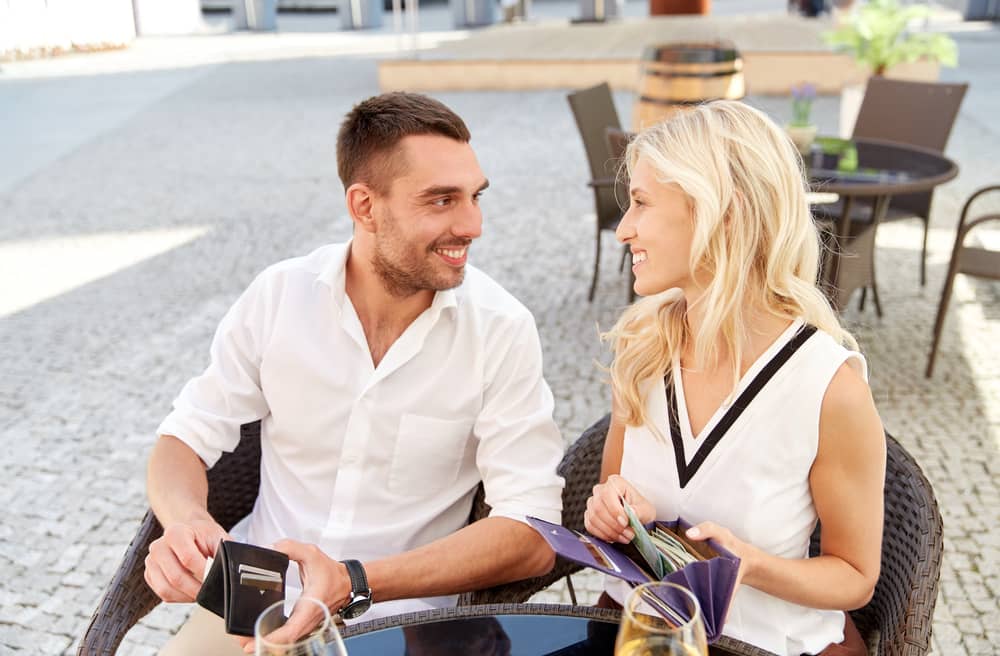 The Capricorn man works hard for his money and is often trying to find multiple ways to build a nest egg for his future. This means he tends to save where he can and doesn't want to overspend.
He will buy clothes to look as good as he can but he'll also cheap out on groceries. He'll buy things that are low cost and tend to stretch out, so he doesn't have to go back to get more too quickly.
He'll take care of the lady he goes out on a date with but he'll tend to try to have dates that require less money if possible. He's an oddball because he's a humanitarian, which means he helps people and animals.
The Capricorn guy will do the right thing when he knows he needs to, but otherwise, he tries to penny-pinch as often as possible. He budgets himself, which also means he'll budget when he's dating.
Don't be surprised if he wants to take you somewhere cheap or a place that doesn't cost anything. He'll push for things like this so he can spend time with you but doesn't have to fork out the financial dough.
Seems Rather Pessimistic
The Capricorn guy sometimes really seems pessimistic when you talk to him. You may be excited about something, and he has to be the Debbie Downer that tells you the facts and how you might want to reconsider.
He can take someone who is super excited about something and make them decide they maybe don't even want to do it anymore. He'll tell you the cons of what you're considering.
He doesn't mean to scare you off or make you feel bad. He genuinely thinks he's helping you by playing devil's advocate. This can also make him seem as though he's combative even though all he's doing is telling you what he believes to be a reality.
Cynical And Downright Dark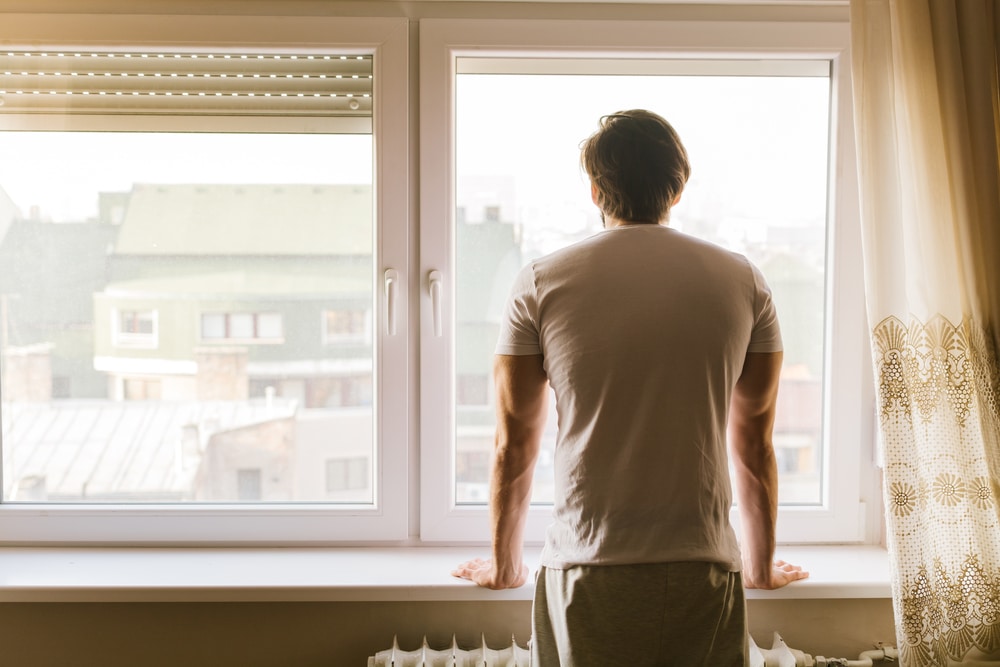 I mentioned him playing devil's advocate, but that's not all. Sometimes he just seems really negative. Everything you say that is positive, he has a counter to it, and it becomes quite frustrating.
It takes a special woman to call him out and let him know that he's being too negative for him to really even realize he's doing it. Some Capricorn guys are a bit narcissistic as well. They think the world revolves around them, or at least it should.
He always thinks he's right and that he's Mr. Moral. The truth is, those are his morals, not everyone else's. He has high expectations of friends, family, and lovers.
He often keeps a small circle of friends because honestly, no one else can live up to what he thinks they should be. At an extreme, the Capricorn man can become depressed or even develop addictions.
When he's alone for too long, he tends to think about things far too much, and this makes him develop anxiety. He looks for ways to ease his tension or stress, which could lead to alcohol or drugs.
He is capable of pulling himself back out of the muck, but he has to find a more positive frame of mind if he ever wants to heal from all the hurt that he has in his life or has even caused himself.
This guy could also sometimes be a bit morose. He may talk about dismembering people with whom he doesn't like or has a moral issue. Don't get him started on what he'd do to pedophiles or rapists.
Are Capricorn Men Selfish?
There is a side to the Capricorn man which is totally shocking to see and that is how selfish he can be. This is probably something he has had to learn at work. A Capricorn man loves to chase the corporate ladder of success and has very well learned how to "play the game."
This can make him a little ruthless and selfish. He'll just do things because it is in his best interest to do so without a care for how it will affect anyone else in his life, and unfortunately, this trait gets passed down into his romantic relationships as well.
He is quite lucky that he has a strong ability to detach himself from people emotionally – it is kind of psychopathic how he won't really feel remorse even after he has wronged someone.
He is so preoccupied with getting ahead and being successful that he has the tendency to forget about others and only think of himself. This is a very bad trait a Capricorn man generally tends to have.
Do Capricorn Men Have Mood Swings?
Absolutely! Capricorn men have very intense mood swings and it can make it difficult to ever know what side you are going to see. One moment your Capricorn can be happy, goofy, and full of jokes, and then the next he is sullen and grumpy. It is hard to keep up.
This makes him quite an unpredictable partner to be with because you might feel like you always need to walk on eggshells when you are with him. All you can really do is be patient with him.
His moodiness comes from his inability to access his emotions, in fact, he is downright terrified of looking within and feeling what he actually feels. This is why Capricorn men tend to become addicted to something, be it work, sex, alcohol, or sometimes even drugs.
Their moods are so intense that they somehow need an escape to get them out of their heads. I wish more Capricorns would go for therapy because this would certainly help the moodiness they tend to feel.
Capricorn Men And Depression – What To Do If You're Dealing With A Depressed Capricorn Man
When a Capricorn man becomes depressed, and yes, this can happen often, they tend to become quite reclusive and want to spend time on their own for a long stretch. This can be quite a difficult challenge to be in a relationship with.
They will avoid all communication or keep it at a bare minimum. It can be so hard for a woman to see her man be consumed by darkness like this. And sometimes this sadness turns into something much worse and that is anger.
You may think that your Capricorn man has no reason to be sad or depressed; he has everything he has worked so hard for. He is ambitious, smart, and very successful, but remember, at what cost? It took him a lot of sacrifices to get to this point. Imagine all the people he had to hurt to get here.
It is very hard for Capricorn men to let go, especially from mistakes they may have made in the past. They will beat themselves up for it and suffer in silence because they think they have somehow failed.
A Capricorn will always be his own worst enemy. He knows he is the key between feeling happy and unhappy, but sometimes he just can't shake that feeling that he isn't good enough.
All you can truly do to help him is to be patient and let him know that you are there for him. Try not to put any pressure on him during this time. Be kind, be helpful, but also remember to give him his space because that is exactly what he wants and needs.
Are Capricorn Men Narcissistic?
Capricorn men definitely seem to fall into a trap of narcissism. They like to be seen and valued in high places. However, all of this actually stems from deep-rooted insecurity of not feeling like they are good enough, sadly.
It is a mask they wear to the world to cope, and eventually, it becomes very real and unfortunately part of their personality. This is why a Capricorn man should be encouraged to pursue other parts of his life, like the invisible parts, such as his spirituality, to help him cope and see that there is much more to the world than just work and success.
But the more a Capricorn man gets the taste of the good and high life, the more he enjoys looking down at people from his self-imposed pedestal. All this insecurity has led them to want to overcompensate which leads to pretentiousness and an inflated ego. It is all connected.
A Capricorn man should really prioritize accepting himself and realize that he doesn't need all these bells and whistles to be happy, however, it may take a lifetime for him to figure this out.
Are Male Capricorns Toxic?
They definitely can be. It is apparent to note that in The Tarot, The Devil card which represents things like addictions, seduction, hedonism, obsession, and dependency is Capricorn's card.
While Capricorns definitely have their positive traits, they also have their much darker ones which sometimes they feed into more often. This can lead to a man who is incredibly toxic, especially in a romantic relationship.
Just look at this list I have compiled to see why. If a Capricorn isn't evolved and hasn't done some inner reflection and work then he may be a terrible match to get involved in a relationship with.
He will drag you down, make you feel insecure, and expect way too much from you. This is a lot of pressure for a woman to have to deal with.
Conclusion
A Capricorn man has the capacity to either be wonderfully supportive and an amazing caregiver in a relationship or, on the flipside, a partner who can be abusive, toxic, and incredibly controlling in a relationship.
Capricorn men can be complicated creatures, one minute they are up and the next they are down.
This can be quite confusing and leave your head spinning around.
All you truly want is to be in your happy place with your Capricorn man.
But you never know which mood you are going to find him in.
The Capricorn man can be really amazing.
If you are a strong woman who can stand up for herself and still be patient with him, then you will have a rewarding marriage.
A Capricorn partner is very caring with his family and will do what he has to in order to make them happy.
He is also a go-getter and will go out of his way to accomplish all of his goals and to make all of his dreams come true.
As his partner, you will be his queen, his baby mama, and the woman he turns to when he needs to talk or even to cry.
You'll be his rock and reason for fighting.
But how do you reach this point?
How do you make him see you as his queen?
Is there anything specific you can do to always put yourself as number one?
Fortunately, I always have a couple of tricks up my sleeve…
> > Click here for more information 
Be a fearless follower who lets her Capricorn partner lead the way, and you'll have a worshiper for life.
But also, be his guiding light and help him move through the world with grace and love.
Don't be afraid to take the plunge and build this beautiful life.
The two of you can do anything because you are together!
Enjoy your time with your Capricorn partner! This is a relationship meant for the record books!
But it is up to you to make it happen…
If you truly want to make a breakthrough and make this relationship successful then you are going to have to work for it…
> > Click here to get all the information you need to make your relationship as strong as it is meant to be.
Wishing you all the luck of the Universe.
Your friend and Relationship Astrologer,
Anna Kovach
---
---