Are you starting to really get into that smoldering Capricorn man but aren't sure what he's looking for? Perhaps these few tips can help you determine what Capricorn men really want in a relationship. 
Capricorn men in relationships often seem as though they're hard to reach or difficult to "get". However, when you discover what a Capricorn man wants in a relationship, you'll have the keys to your own success with him.
Keep reading to find out everything else you need to know when falling in love with a Capricorn guy.
Capricorn Guy Wants Stability & Security
Capricorn men take love very seriously. They treat it just like it's a business and that means lots of work, effort, and compromise. He wants a relationship that has these qualities in spades.
He will want to have a partnership that makes him strive and want to be a better person. Likewise; he wants to make a difference in his lady love's life as well. There should be a mutual give and take.
Capricorn guys want an equal relationship where you both take care of one another and be best friends, anchors, and partners for life. He typically isn't looking for a quick roll in the hay.
This could make him serial monogamist unless his moon gives him more of a proclivity for being a bit promiscuous. Otherwise; it's not a common thing for the Capricorn male.
He wants to know that if he gets together with you; it's going to work out forever if not long term. He isn't interested in dating around for fun if there is no future in it. He thrives better when he has a partner supporting him and his goals in life.
He is Sexually Open-Minded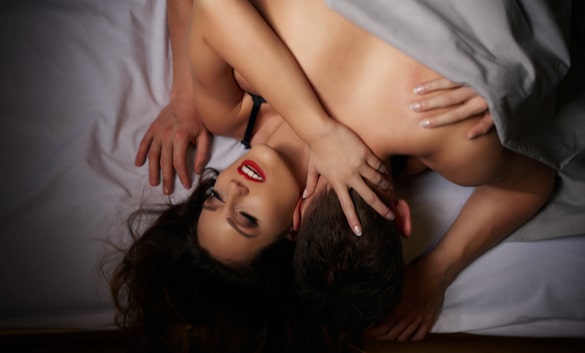 The Capricorn man is typically one that wants to please his partner. He will go above and beyond to make sure that you're well satisfied in the bedroom. This man has a freaky side too so if you're into doing things "differently", he'll be into it.
He will at least try anything once. If you've got some fantasies, let him know. He'll do what he can to accommodate you. This man loves to watch you squirm with pleasure and loves to be the one causing it.
As such; he's going to require a partner who is open minded and loves to play in the bedroom or elsewhere. Keep your mind open to try new things as you just may be surprised at how creative he can be.
It will turn him on when you come up with new things to try that he hasn't thought of yet. Also if you play along if he comes up with an idea; you'll sink deeper into the passionate Capricorn's desire.
There is nothing sexier than a man who is open-minded when it comes to sex. Even foreplay can be a new pastime for the two of you to have fun with. Why not give it a try? Show him what a treasure he has in you.
He'll always show you how much he appreciates your touch and your care for his own deep desires. Sex is very important to him so be sure that you engage as often as you can or that he will want.
Desires to Take Care of His Partner
It's the ideal situation for a Capricorn when he finds a woman who doesn't mind being taken care of. This isn't to say you should be needy but; he'll absolutely love to do things for you.
He has no problem being the domestic guy who cooks, cleans, takes care of the bills, and brings home most of the finances. That doesn't mean you should be lazy and let him do it all.
It's more fulfilling for him when he does these things for you yet you still have a sense of drive and passion about the work that you do as well. Make sure you keep your eyes on some goals.
The last thing he wants is a couch potato partner that doesn't like to get anything done. It shows lack of respect and integrity where he is concerned. Having yourself together but letting him be the primary nurturer will make him thrive.
Sharing goals together or discussing what the future may hold will be a conversation that is likely to happen often with the Capricorn man. He's very responsible and would like an equal partner.
Even if you're really independent, you should allow him to do things that he feels is "taking care" of you. This is one of the many important things that Capricorn man wants in a relationship with you.
Feeling as though he's proper care taker of the woman he loves is very important. It's another one of those old fashioned qualities that he has within. Don't deny him of that.
The Capricorn Man in a Relationship Wants Respect and Consideration
Even if the woman he is with has different goals than him; as long as she respects what his goals are and gives him plenty of support to do it; he'll be happy. Of course, if the woman would be into the same type of business; that would be nice too.
He's the type of guy you could absolutely start a business together and successfully run both the household and company. If you are looking for the type of guy that can pull this off; Capricorn is your guy.
He's a whizz when it comes to getting work done, getting organized, and making sure that everything is running smoothly. His partner will need to be able to run with this and optimize the success of the business.
If not for business, the right partner will have to be considerate for everything he does for the relationship and for the success of the future he and his lady love may have together.
He wants to be recognized for all that he does for his partner as well as all the hard work he puts in to make sure that everything will run well for the road ahead.
Giving him props isn't too hard right? Of course it isn't. You can always find things to compliment him on. Even simple things like keeping the house clean or how he dresses will provide him with appreciation for your gestures.
What Capricorn Men REALLY want in a relationship? Loyalty!
I mentioned security and stability but there is also the loyalty factor. He absolutely will need his partner to be 100% loyal to him. What good are security and stability if loyalty isn't there?
It all sort of goes hand in hand really. Show him you're there for him for the long haul and he'll do everything he can to provide you with a home that is comfortable, safe, and protected.
Capricorn men are one of the more responsible signs of the zodiac. They see life as serious business that has to be constantly worked at. He will see the relationship as being this way as well.
This means he'll always do whatever work is necessary to keep things thriving the way they should for success to come from it. If you land a Capricorn man then you are truly lucky.
Capricorn man in a relationship wants to prove to you that he's your guy. He wants to be a gentleman and romantic at heart. He wants you to know how much he values you by giving you the best of care.
The Capricorn guy will always provide you with loyalty as long as you're showing him the same efforts. He will not feel the need to stray or look elsewhere when he's content with you.
Conclusion to Capricorn Men in Relationships
Now that you know better what a Capricorn man wants in a relationship, you can figure out whether or not you're someone that will provide him with the love he deserves. You're that person right? Of course you are!
You know, not all women can find a man that is so responsible and is an excellent husband, as well as father to their future children. This is the guy that will give you all you could wish for.
If you aren't sure about your Capricorn guy, you should check out more by clicking here. It may help you get a deeper look at him.
The more you know about him, the easier it will be for you to get closer to him. Don't give up simply because you do not understand him. Knowing is half the battle!
Something else really interesting that you probably do not realize is the amount of male celebrities that are Capricorn. In fact, sultry actor Jude Law is a Capricorn man!
Do you have a Capricorn man all figured out? Tell me all about it!
Share your story (or situation) with our community in the comment section below (don't worry, it's anonymous).
Wishing you all the luck of the universe
Your friend and Relationship Astrologer,
Anna Kovach
---
---